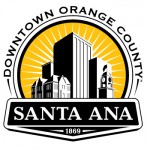 City of Santa Ana, Downtown Orange County
Community Alert: Mayor and City Council React to Financial Forecast At Upcoming City Council Meeting
SANTA ANA, CA (February 3, 2014) – At Tuesday's City Council meeting, the Mayor and City Council will receive a mid-year update and revised financial forecast for their review and approval. The revised forecast reflects positive changes in our local economy. Major revenues such as sales and property tax are increasing at a higher rate than previously forecasted which will provide the City with additional funds to serve our community. General economic activity is increasing with general retail sales up 3.4%, building permits have increased by 3.8% and unemployment has now dropped to 8.5%.
Michele Martinez commented, "As the Chairperson of the Finance, Economic Development and Technology Council Committee, it is exciting to see that the tough choices made by my colleagues, city staff, all of the bargaining units, and a very involved community are paying off as we turn the corner in a positive direction."
The revised five year forecast moves the City towards a positive financial direction with future balanced budgets.
Mayor Miguel Pulido stated, "This financial forecast is great news. The Santa Ana economy is vibrant, our future is bright, and our great city is back on track."
Because of this forecast the 5-year strategic plan will now include $2 million dollars in annual funding. In addition, the City will achieve a targeted reserve of 20 percent ($41 million) by 2015, well ahead of schedule.
​"Working with the City Council and our outstanding management to put the city on a positive fiscal track is my number one priority. A structurally balanced budget, strong reserve policy and healthy economy makes Santa Ana attractive to investors and allows for improved service levels," stated City Manager David Cavazos.
Please attend the upcoming city council meeting to see the new 5-year forecast first-hand. If you are not able to attend the meeting, you can visit http://santa-ana.org/coc/archive.asp, where the meeting will be aired live or archived for later viewing.
####
For full details, view this message on the web.