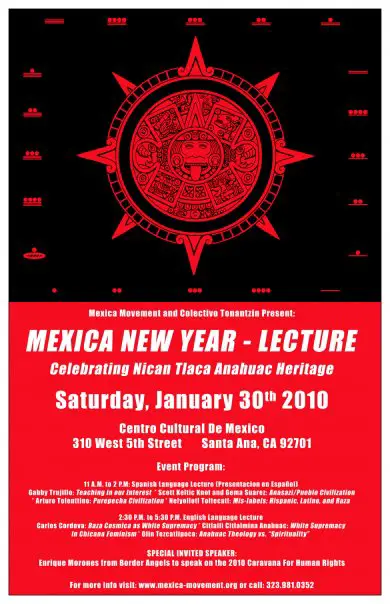 The Mexica Movement and the Colectivo Tonantzin present: Mexican New Year, celebrating Nican Tlaca Anahuac Heritage, on Saturday, January 30th 2010 at the Centro Cultural De Mexico, located at 310 West 5th St., in Santa Ana.
Speakers Include: Gaby Trujillo, Scott Celtic Knot, Arturo Tolenttino, Gema Suarez, Nelyollotl Toltecatl, Carlos Cordova, Citlalli Citlalmina Anahuac, Olin Tezcatlipoca and special guest speaker, Enrique Morones from Border Angels, who will speak on the 2010 Caravana For Human Rights Event Program.

The lecture will cover Nican Tlaca identity, Nican Tlaca education and liberation,"Four Corners" history and cultures,"Indian Schools" of 16th thru 20th centuries,feminism, "spirituality", our theology, and mislabels: Hispanic, Latino, Raza.  This event is free but donations are welcome.
11 A.M. to 2 P.M : Spanish Language Lecture
2:30 P.M. to 5:30 P.M. English Language Lecture
Click here to learn more about the Mexica Movement.  And click here to RSVP for this event via Facebook.