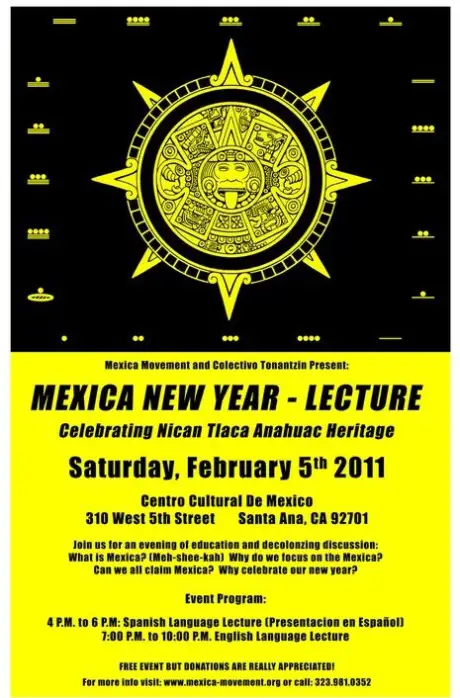 The Mexica Movement is hosting a Mexica New Year Lecture, celebraring Nican Tlaca Anahuac Heritage, on Saturday, Feb. 5, at El Centro Cultural de Mexico, located at 310 W. 5th St., in Santa Ana.
The discussion will include:
What is Mexica?
Why do we focus on Mexica?
Can we all claim Mexica?
Why celebrate our New Year?
There will be a Spanish language lecture from 4 pm to 6 pm, followed by an English language lecture from 7 pm to 10 pm.
The event is free but donations are appreciated.  For more info visit www.mexica-movement.org or call 323-981-0352.  Here is some more information about this year's Mexica Fundraising Drive:
Friends of Mexica Movement
FUND DRIVE
2011
Like PBS, NPR, and other non-profits, we have to make our pitch to you a few times a year. This is our first Facebook drive.
The reality is that in order for us to keep doing what we do as Mexica Movement it costs money. We need your moral support but we also need your financial support.
We have established a presence on Facebook with Mexica Movement and members and supporters of Mexica Movement. We are helping to educate our people on our history, our Nican Tlaca identity, and to make them aware of the reality of the world in which we live. We are also presenting this information to the rest of humanity in order to explain why we need to liberate our people out of ignorance and out of our enslavement to white supremacy.
We have met a lot of good people, creative people, courageous people, on this Facebook phenomenon. This is the way to create virtual communities. So now we have a Nican Tlaca Facebook Community in its infancy. We are happy with how this is all developing, except for a few glitches. We have met a lot of good people here.
You have hopefully seen that we have websites, youtubes, posters, blogs, etc with a lot to show you of the work that we do as Mexica Movement. What you don't see is all the work that goes into preparing for a lecture, a protest, an event, and to do a video and to edit our videos. And of course there are expenses behind all of this.
We are asking you to help us with the expenses of the work that we do. It is not a lot of money to keep us going, but it mostly comes out of our own pockets. But now we have lost our Paypal account, it will be harder for us to raise funds. So we are asking you to send us what you can on a monthly basis or a one time donation of $5, $50, $100 or more.
Remember that we obviously get no government grants, no corporate donations, and no big money coming our way. You are the only ones who can keep us operating. So please do this as soon as you can. We are counting on you.
Checks or money order made out to:
Mexica Movement
Mexica Movement
PO Box 60803
Pasadena, CA 91116
Our websites:
www.mexica-movement.org
www.stolencontinent.org
Our Youtube websites
http://www.youtube.com/user/TheMexicaMovement
http://www.youtube.com/user/AnahuacPilgrimage
http://www.youtube.com/user/anahuacwarrior
http://www.youtube.com/user/AnahuacWomenFight
Tlazocahmati (thank you),
Olin Tezcatlipoca,
Director
Mexica Movement