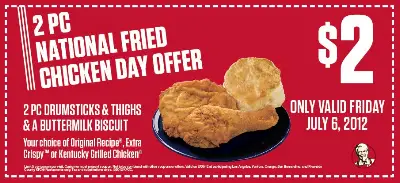 KFCs in Southern California is gearing up for National Fried Chicken Day, on Wednesday, July 6, 2012, according to a DGWB press release.  KFC Southern California and the KFC Southern California Colonel are celebrating with a series of events and promotions leading up to National Fried Chicken Day.
Participating KFC SoCal locations will honor the holiday with a special offer (see the coupon above) for 2 pieces of their fried chicken, and a biscuit, for $2.  The coupon is redeemable on July 6 only. This special coupon is also available on the KFC SoCal Facebook page.
In addition, Win It Wednesday The Colonel's Win It Wednesday gives your readers the chance each week to win great prizes. "Like" www.facebook.com/KFCSoCal and answer a simple trivia question every Wednesday to be entered for a chance to win each week. Prizes include KFC Gift Checks, gift cards, tickets to attractions and other great prizes!
There are four KFCs in Santa Ana:
1345 South Main Street, Santa Ana – (714) 542-4771
2600 South Bristol Street, Santa Ana – (714) 754-0871
1325 E. 17th Street, Santa Ana, CA 92705 – (714)541-0310
762 South Harbor Blvd, Santa Ana, CA 92704 – (714)839-1340
Click here to see more local KFC locations.
ABOUT KFC
KFC Corporation, based in Louisville, Ky., is the world's most popular chicken restaurant chain specializing in Original Recipe®, Extra Crispy™ and Original Recipe Strips with home-style sides, Honey BBQ Wings, and freshly made chicken sandwiches. There are more than 14,000 KFC outlets in more than 80 countries and territories around the world, serving some 12 million customers each day. KFC Corporation is a subsidiary of Yum! Brands, Inc., Louisville, Ky.