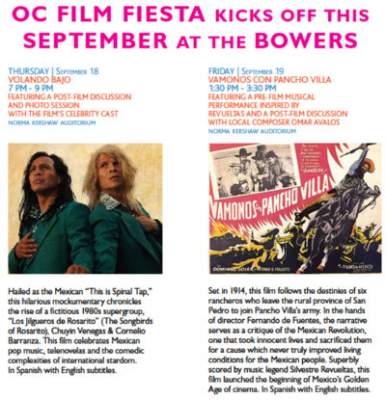 FOR IMMEDIATE RELEASE: September 10, 2014
CONTACT: Victor Payan, Latino Audience Engagement Specialist, 714-567-3645, vpayan@bowers.org
Celebrate Hispanic Heritage Month at the Bowers Museum
Orange County Institution Offers Programs, Exhibits Showcasing Hispanic Heritage 
The Bowers Museum of Cultural Art in Santa Ana offers several wonderful exhibits and events to celebrate Hispanic Heritage Month in Orange County.  In addition to fascinating permanent exhibits showcasing Hispanic cultures throughout the Americas, the Bowers will also host the opening screenings for the 5th OC Film Fiesta on Sept. 18 and 19.
Founded in 1936, the Bowers Museum evokes the inviting serenity of a Californio hacienda, with its arched corridors and red tiled roof.  Inside its halls, the Bowers contains permanent exhibits of Pre-Columbian Mesoamerican artifacts, California's Missions and Ranchos era and Southern California's Native peoples.
The Bowers also houses two original murals by master Mexican painter Raul Anguiano and a bronze statue of explorer Juan Rodriguez Cabrillo.
The Bowers permanent collection also includes a South American Ethnographic Collection, which consists of nearly 1400 objects, as well as an online Photographic Art Collection and Archives, which includes many historic photographs of Orange County and Southern California's Hispanic heritage.
On Thursday, September 18 at 7pm, the Bowers will be the site for the opening night of the 5th OC Film Fiesta, featuring a free screening of acclaimed Mexican director Beto Gomez's new comedy Volando Bajo, which stars Gerardo Taracena (Apocalypto), Rodrigo Oviedo (Saving Private Perez) and comedy legend Rafael Inclán.
On Friday, Sept. 19 at 1:30pm, the Film Fiesta continues at the Bowers with a free community screening of the 1936 Mexican classic film Vamonos con Pancho Villa. Set during the Mexican Revolution, this moving epic is directed by Fernando de Fuentes and featuring a score by legendary Mexican composer Silvestre Revueltas, this film is credited with starting the Golden Age of Mexican Cinema. For more information about the full OC Film Fiesta schedule and screening locations, please visit www.ocfilmfiesta.org.
Bowers 2014 Hispanic Heritage Month Offerings
5th OC Film Fiesta Opening, Sept. 18-19
The 5th Annual OC Film Fiesta opens Thurs., Sept. 18 at 7pm at the Bowers Museum in Santa Ana with a free screening of Volando Bajo, acclaimed Mexican director Beto Gomez's hilarious homage to musica romantica of the 1980s, starring Gerardo Taracena, Rodrigo Oviedo, Ludwika Paleta and Rafael Inclán.  The OC Film Fiesta, which features three weekends of films, documentaries and workshops, runs through Sunday, Oct. 5.
The OC Film Fiesta continues at the Bowers on Friday, Sept. 19 with a special free 1:30 pm screening of Fernando de Fuentes' 1936 classic Vamonos con Pancho Villa with a discussion about the film's legendary composer, Silvestre Revueltas. For more information on the full OC Film Fiesta schedule and screening locations, visit www.ocfilmfiesta.org. All OC Film Fiesta screenings are free and open to the public.
California Legacies: Missions and Ranchos (1768-1848) Exhibit
California Legacies: Missions and Ranchos (1768-1848) features displays of California and Orange County history that are must-sees for California students and residents alike.
California Legacies: Missions and Ranchos (1768-1848) features objects related to the settlement of Alta California through Spanish land grants, life at the California Missions and the wealth and lifestyles of the first families who flourished under Mexico's rule of California known as the Rancho period. The collection originating from Orange County's missions and ranchos includes the first brandy still to be brought to California, a statue of St. Anthony that originally stood in the Serra Chapel at Mission San Juan Capistrano, a dispatch pouch used by Native Americans to deliver messages between missions, and fine clothing, paintings and daily use objects. A must-see for California students and residents alike.
Pre-Columbian Exhibit
Arts from the sophisticated Pre-Columbian cultures of Mexico and Central America are highlighted in a series of galleries.
Pre-Columbian art from Mexico and Central America displayed in a series of galleries communicates the power and sophistication of the mysterious cultures that rose and fell in ancient America. Emphasis is placed on the ceramic and stone arts of West Mexico, Costa Rica and Panamá. A gallery devoted to the famous "Limestone Tomb of Lord Pacal" includes a life-size reproduction of the elaborately decorated and highly symbolic limestone sarcophagus excavated at the pyramid in the Mayan City of Palenque in Chiapas, Mexico. Other works of art from the ancient Mayan civilization complete the exhibit.
First Californians
This installation showcases the Bowers' extensive permanent collection of Native American art and artifacts in stone, shell, plant fiber (through spectacular basketry) and feathers.
These primary resources help tell the story of the culture of Native Californians. Although groups from all regions of California are represented in the exhibit, special attention is placed on local groups that inhabited the coastal regions of Southern California. The Boeing Company funded the teacher resources guide that accompanies this exhibit. This guide is available to teachers who schedule a tour.
Murals by Mexican Master Raul Anguiano
The Bowers contains two original murals by Mexican master Raul Anguiano, which the artist painted at the Museum in 1999. One, titled "The Maya" is mounted in the Pre-Columbian Exhibit, and the second, a dazzling celebration of indigenous cultures of the world, is located in the Pimco Foundation Gallery.
Juan Rodriguez Cabrillo Statue and El Camino Real Marker Bells
Built in 1936, the West Wing of the Bowers Museum is a picturesque red-tile roofed Mission-style building that evokes the beauty and tranquility of 19th Century Alta California.  It is a favorite spot for photographs, and families can walk through the breezy arches of the courtyard, which includes a large bronze statue of 16th Century explorer Juan Rodriguez Cabrillo.  The Bowers Museum also contains several El Camino Real marker bells, which commemorate the original California Mission Trail (1683-1834) and are situated on the southern lawn of the Museum.
###
About the Bowers Museum
The BOWERS MUSEUM is located in the heart of Southern California at 2002 North Main Street in Santa Ana, just one minute from the 5 freeway at the Main St. South exit, and just a few minutes from the 22, 55 and 57 freeways.
Admission to the Bowers Museum and the Kidseum is free to all visitors the first Sunday of every month as part of Target Free First Sundays. Additionally, the first Sunday of the month also features a Free Family Festival that includes music, food and children's cultural activities from 11 AM to 4 PM.
Santa Ana residents can enter the Bowers Museum for free every Sunday, with valid identification or utility bill.
General Admission to the Bowers Museum is $13 for Adults and $10 for seniors and students on weekdays; and $15 for adults and $12 for seniors and students on weekends.
Children under 12 are always free, when accompanied by a paid adult.
Parking is $6, and plentiful street parking is also available. Regular operating hours are Tuesday through Sunday, 10 AM to 4 PM.
For more information, please visit www.bowers.org or contact Victor Payan, Latino Audience Engagement Specialist, at vpayan@bowers.org or 714-567-3645.
Address: 2002 North Main Street, Santa Ana, CA 92706
Tickets and Information | 714.567.3600
Group Tours: grouptours@bowers.org | 714.567.3680
Membership: membership@bowers.org | 714.567.3639
For more information, visit our website at www.bowers.org