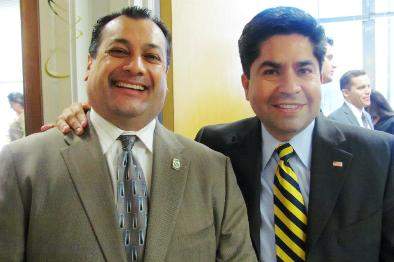 Jose Solorio no longer has to fly to Sacramento every week to do business in the State Legislature, having termed out as our Assemblyman in the 69th Assembly District.  Reportedly he has his eyes on State Senator Lou Correa's seat in the 34th State Senate District, which will open up in 2014.
Solorio was just elected to the Rancho Santiago Community College District's Board of Education, where he was quickly appointed the Board Vice President.  He might be the most overqualified School Board Trustee in Orange County – but it is great to see him leading a new Latino majority on a board that once was almost lily white.
But can Solorio win in 2014?  Already there is word that the unions are still up in arms because he supported Tom Daly over Julio Perez in the race for the 69th Assembly District this year.  Perez lost in the primary by the margin of votes taken by a guy named Francisco Barragan.  But Perez blames Solorio, not Barragan.  Rumor has it that Perez will run against Solorio in 2014, just to split the Latino vote.
Joe Dovinh told me he too would be running for Correa's seat.  Dovinh ran unsuccessfuly for the 72nd Assembly District this year, losing in the primary.  He is a Planning Commissioner in Garden Grove, where his wife Dina is a Council Member.
Supervisor Janet Nguyen won re-election this year and could run for Correa's seat without risking anything.  The 34th is fairly well split now between the Republicans and the Democrats.  With several Democrats in the mix Nguyen could have a good shot at the seat.
I don't expect any of the Santa Ana City Council Members to run for Correa's seat.  New Mayor Pro Tem Sal Tinajero will likely challenge Daly in the 69th Assembly District Primary.  Even if Tinajero loses he will be able to run that fall for re-election to the Santa Ana City Council.
You have to figure that Solorio's fellow RSCCD Trustee Claudia Alvarez is a potential candidate for Correa's seat too.  But she is likely too smart to jump into such a crowded race.  I could see her running though for Nguyen's seat when it come available.
So can Solorio pull it out?  Don't count him out.  He is a formidable campaigner and can raise money like few other O.C. politicians.  A lot of his fellow Democrats in Sacramento owe him plenty of favors too.  It won't be easy, but he most certainly can win in 2014.