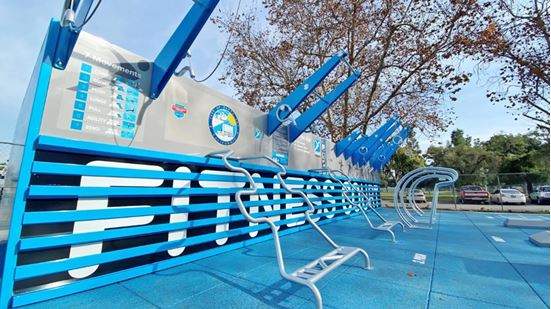 The City of Santa Ana is looking to proudly showcase the artistic expressions from our talented community of artists! To accomplish this, we're issuing a Call for Mural Proposals to Santa Ana-based artists or artist teams for a collection of digital designs of outdoor murals suitable for placement on eight of our new fitness courts.
For information on how to submit, as well as further details about the process, click here.
PROPOSAL SELECTION CRITERIA
A selection panel composed of, but not limited to, arts professionals, City staff, City Commissioners, and local community representatives will review and score the applications and make recommendations to select 8 artists/teams.
The selection panel will review and evaluate the applications and final design proposals based on criteria that may include but is not limited to the following:
Artistic merit
Availability and ability to work for the term of the project
Santa Ana-based artist/team
For the Fitness Court located near the Southwest Senior Center, priority will be given to artist/team that include at least one artist who is 60+ years old
DESIGN & INSTALLATION
The ideal artwork will enhance the parks, represent Santa Ana's vibrant arts culture, and promote awareness of the city's social, cultural, and historical composition. The artwork must be appropriate for all ages and engage with the growing, diverse population in the City of Santa Ana.
Design Criteria:
Artist/Team may submit artwork/designs from their existing portfolio. Artwork/designs do not have to be original for this project.
Artwork should reflect the unique culture of Santa Ana in a family-friendly way.
Artwork cannot contain trademark images, logos, tag lines, or be in any way thematically linked to a commercial business, establishment, product, or service. Overt religious and political themes and symbolism will also be declined.
The City will reject for display works of art that are in violation of State or Federal obscenity laws.
Installation:
Artworks will be digitally sized for a 32'L x 8'H mural wall and various-sized "front art zones" to be wrapped around an outdoor Fitness Court training wall (see diagrams below).
The digital design collection will be printed onto an anti-graffiti laminate vinyl.
PRCS will be responsible for the cost of printing and installing the artworks.
ELIGIBILITY
Applicants must be artists or artist teams living, working, or studying in Santa Ana and age 18 or older. Candidates are eligible regardless of race, color, religion, national origin, gender, gender identification, military status, sexual orientation, marital status, or physical ability.