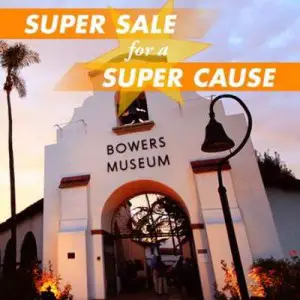 MEDIA ADVISORY: 7/29/15
MEDIA CONTACT: Victor Payan, Latino Audience Engagement Specialist, Vpayan@bowers.org, 714.567.3645
Bowers Museum Holds Once-In-Decade Super Sale July 31-Aug 2
Unique Non-Collection Items and Antiques from Around the Globe On Sale to Public
Support the Bowers Museum by shopping for non-collection items on July 31st – August 2nd 10 a.m. – 4 p.m. during our
Once-In-A-Decade Super Sale.
Find unique works of art, antiques and cultural objects from every inhabited continent in the world and all under one roof! Oil paintings, antiques from early Orange County, jewelry from Oceania, African sculptures, dolls and miniatures, Chinese cloisonné, rare art books, and hundreds of other decorative objects that are interesting conversation pieces you won't find anywhere else. None of the items being sold are from the museum's permanent collection, most were taken on donation by the Bowers as items of interest that could be sold in the future. And your purchase is critical to generating proceeds that will support new acquisitions of art for the Bowers' permanent collection and the fun at Bowers' Kidseum.
Our Collection Department team will be on the floor wearing pink aprons to answer your questions, provide you with history and help you have a most memorable shopping experience.
The event is open to the public. Museum and Cultural Heritage Professionals get in one hour early on Friday and Saturday with business card.
All listed prices are fixed and final.
Fine Art and Frames • Decorative Arts • African Decorative Objects • Antique Dolls and Accessories • Antique Furniture, Ephemera and Tools • Chinese Decorative Objects • Antique & Art Books • Native American & South American Decorative Objects • Decorative Sculpture
The Bowers Museum located at 2002 N. Main St. in Santa Ana, and is conveniently located near the 5, 22, 55 and 57 freeways.
For more information, visit the Bowers museum website, www.bowers.org or call 714-567-3600.
Facebook Event Page: https://www.facebook.com/events/1633121240265321/
###