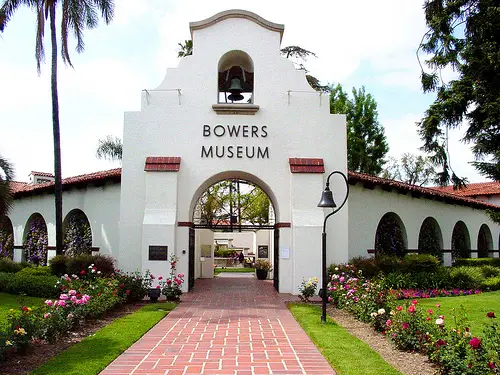 Sunday, February 13 & repeated on Tuesday, February 15 (Bowers' actual 75th anniversary and birthday)1:30 PM – 3:00 PM
What do handsome art thieves, land snails, risqué photo shoots, confused celebrities and great white shark attacks all have in common? They each are part of the eclectic experiences and funny occurrences of the Bowers 75 years of history.
Founded in 1936 by the City of Santa Ana, the Bowers Museum has gone on to host more than 50 special collections in over 93,000 square feet of exhibition space. Our ongoing mission to enrich lives through the world's finest cultural arts and artifacts wouldn't be possible without your support. Please join us for the Bowers' 75th anniversary celebration!
This special lecture event is presented by Jennifer Ring, Director of Collections and Research, and Julie Perlin Lee, Curator of Exhibitions, Bowers Museum. They will tell you the stories and relive the history of some of our most riveting artifacts and exhibitions. Find out how the Bowers Museum has endured as one of Southern California's greatest landmarks and evolved into a world-renowned cultural institution.
Delicious desserts and coffee courtesy of Peets Coffee follow the presentation.
Sponsored by the Italian Cultural Arts Council.
Fee: Free to members; free with paid museum admission; $8 single ticket.