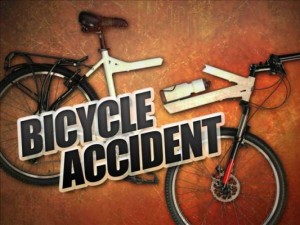 An 18-year-old bicyclist was badly injured Friday in Santa Ana when he ran into the rear wheels of a big rig and was dragged about 200 feet, as we reported on Friday.
The mishap occurred around 1:10 p.m. in the 2200 block of West 1st Street, according to the O.C. Register.
The bicyclist was riding east along the sidewalk on West 1st Street.  He reportedly tried to enter the intersection at South Center Street when he ran into the rear wheels of the truck, which was going east on West 1st Street and had turned onto South Center Street.
The truck dragged the bicyclist for some 200 feet before the truck stopped.  The bike rider suffered severe leg and abdominal injuries and was taken to UCI Medical Center in critical condition, according to the OC Fire Authority.
The SAPD did not cite the truck driver, who stayed at the accident scene and cooperated with the police officers.  The truck driver was not injured in the accident.