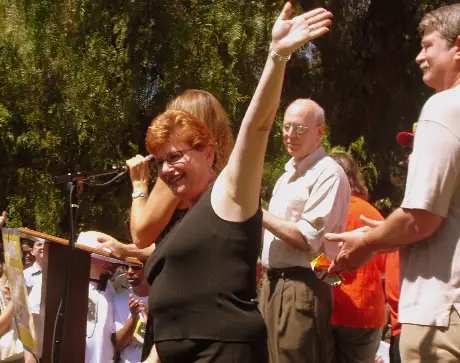 Larry Agran stepped down as Chairman of the Orange County Great Park Board of Directors this week, according to the O.C. Register, which reported that "Agran gave no reason other than that it was a good time to step aside."
Santa Ana Mayor Miguel Pulido also serves on the O.C. Great Park Board.  It also turns out that both Pulido and Agran received funds during their respective re-election campaigns last year, from the same PAC – the Victory Fund, according to a new article by O.C. Register columnist Frank Mickadeit.
The O.C. Weekly also reported that "local folks tied to sweetheart business deals at the Orange County Great Park, where Agran just stepped down as chairman, gave at least $174,500 in the last election to a political action committee based in Burbank. So what? Well, that group may have then funneled the money back to Irvine to quietly benefit Agran's 2010 re-election efforts."
On Thursday, this week, his colleague from the Irvine City Council, Beth Krom, was elected to replace Agran as the new Chair of the O.C. Great Park Board, according to a press release we are including below.  It should be noted that Krom also serves on the Board of Directors of the Discovery Science Center, which is located in Santa Ana.  She also ran for Congress last year, against incumbent John Campbell, who prevailed.
FOR IMMEDIATE RELEASE: FEBRUARY 17, 2011
CONTACT: JENN STARNES, 949-724-6574
Beth Krom Elected Great Park Board Chair
Walkie Ray Elected Vice Chair
IRVINE – The Orange County Great Park Corporation Board today elected fellow director Beth Krom to serve as Chair of the Great Park Board. She has served as member of the Board since the Park was publicly dedicated in 2005, and was a leader in the effort to create the Orange County Great Park. Chair Krom also currently serves as Irvine Mayor Pro Tem.
Krom served as Irvine Mayor when the Lennar Corporation transferred 1,347 acres of land and $200 million to the City to begin development of the Great Park. Krom replaces Larry Agran as Chair, who will continue to be involved in key Park programs as a member of the Board and as an Irvine City Councilmember.
"I appreciate the leadership of Larry Agran and the support of my fellow directors," said Chair Krom. "I dedicate my term as Chair to fulfilling our shared vision for creating a Great Park which serves people of every culture and interest."
Beth Krom has a long history of public service. She was first elected to the Irvine City Council in 2000. She was elected Mayor in 2004 and again in 2006. Chair Krom also serves on a variety of civic and non-profit boards. She is a member of the Transportation Corridor Agencies boards, and the boards of Arts Orange County, the Discovery Science Center and the Laguna Canyon Foundation.
Fellow Board member and Councilmember Jeffrey Lalloway welcomed Krom to her new post. "I have been critical of some of the past practices of this Board," said Director Jeff Lalloway. "On the other hand, it is my strong feeling that we can move forward together, as a unified voice for the public, to build this Great Park. So, I support Mrs. Krom for Chair of the Board. In doing so, I am extending my hand to her in an effort to work together, in the spirit of unity."
The Board also elected Director Walkie Ray as Vice Chair. "Walkie is an experienced developer and one of Orange County's leading philanthropists. His leadership, expertise and spirit of public service will be put to good use as Vice Chair of our Board," said Agran.
Ray is co-owner of Sanderson J. Ray Corporation. Ray served as Chairman of the Board for both the Discovery Science Center and Orange County High School of the Arts. He was also Chairman of the Building Committee of Sage High School.
The Orange County Great Park, with its 1,347-acre master plan, is the focal point of the redevelopment of the publicly-owned portion of the 4,700-acre former Marine Corps Air Station, El Toro. The Great Park is currently 27.5 acres and includes an iconic tethered helium balloon that rises 400 feet in the air, providing an aerial view of Park development. A $70 million development plan to expand the Park to more than 200 acres is currently underway. The plan will build out a core section of the Park for the most immediate and wide-ranging public benefit, including the initial components of the sports park, a 114-acre agricultural area, and an art and culture exhibition space. For more information, please go to www.ocgp.org
###