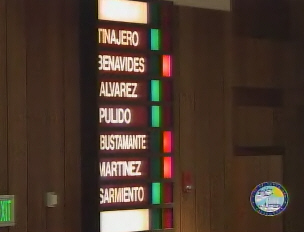 The Santa Ana City Council just voted on the 85 A item that was put on the agenda tonight, by Council Members Carlos Bustamante and David Benavides.  They said they weren't trying to punish Mayor Pro Tem Claudia Alvarez, but that is precisely what they were trying to do.
The Council voted 4-3 for an alternate motion submitted by Council Member Vince Sarmiento, condemning Alvarez' comments last week, when she used a Hitler analogy in talking about Jewish property owner and developer Irv Chase.
Surprisingly, Council Member Michele Martinez sided with the "B-Boys."  However they could not get four votes.  Indeed, they got punked.  Council Members Pulido, Sarmiento, Tinajero and Alvarez voted for the substitute motion.
Alvarez will continue to serve as Mayor Pro Tem and she will not be removed from any Commissions.
Click here to read my extensive report on tonight's Council meeting.