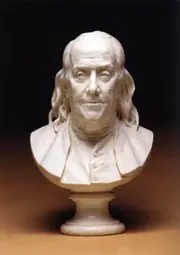 Benjamin Franklin: In Search of a Better World, at the Bowers Museum, from Saturday, Dec. 18, 2010, through Sunday, March 13, 2011.
Featuring seventy-five rare and important artifacts from Franklin's life, this exhibition is an immersive, interactive visitor experience for all ages. The exhibition presents the stories of Franklin's life through his personal belongings used during his early years in Boston as a rebellious teenager, during his life as a printer and during his years of service to the American colonies and the newly formed United States.
A scientist, inventor, diplomat, humorist, philanthropist and entrepreneur, Franklin's dynamism comes to life further through hands-on and interactive activities and animations geared toward a school-aged audience.
Benjamin Franklin: In Search of a Better World was originally organized and presented by the Benjamin Franklin Tercentenary to mark the 300-year anniversary of Franklin's birth (1706-2006). Supported by a lead grant from The Pew Charitable Trusts, the Benjamin Franklin Tercentenary was founded by a consortium of Philadelphia cultural institutions: the American Philosophical Society, The Franklin Institute, the Library Company of Philadelphia, the Philadelphia Museum of Art and the University of Pennsylvania.
Learn more at www.BenFranklin300.org. After its international tour ended in March, 2008 it was redesigned by the Minnesota Historical Society who made it available to travel to other venues.