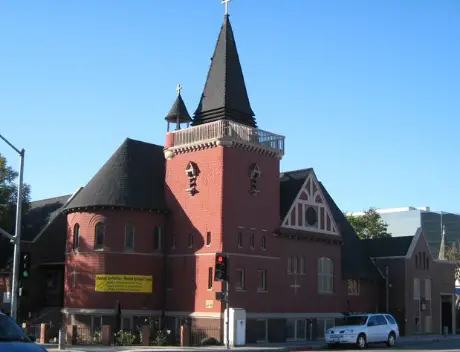 You're invited to celebrate Christmas at the Episcopal Church of the Messiah! The program begins at 4 pm on Christmas Eve with the Children's Christ Mass, a qualitatively different kind of children's service. This Christ Mass is especially designed to speak to children "in their own language" and to draw them into the service as participants. Little kids (and their "big kid parents" as well!) are given costume head pieces and bells as they enter the church, and, as the Christmas story is told, everyone finds him or herself included, until we are all ringing our bells and worshiping, head pieces askew, around the manger! It's a delightful experience for old and young alike.
Then at 10:30pm on Christmas Eve, the parish choir, accompanied by a brass quartet and the mighty Moeller pipe organ (the oldest in Orange County), will present a concert of carols, including three works by Z. Randall Stroope– one of which is his magnificent Hodie! Immediately following the concert, the festive Christ Mass will begin. We guarantee a short –but significant– sermon, and lots of music. Come early to ensure a good seat; everyone is welcome at God's table. Invite a friend!
The Church is at 614 North Bush Street (corner of Bush and Civic Center) in Santa Ana.
www.messiah-santaana.org
http://www.facebook.com/pages/Episcopal-Church-of-the-Messiah-Santa-Ana-CA/160859177265515?v=wall