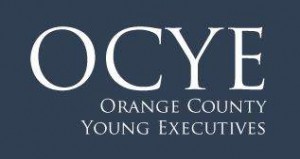 The Orange County Young Executives Future Leader's Scholarship is now accepting applications. This scholarship is open to high school seniors who aspire to obtain higher education and make a difference within their community. The scholarship is generally aimed toward high-achieving students who also demonstrate continued involvement within the surrounding community.
The award value is a minimum of $3,000, which may increase depending on ticket sales for OCYE events, and will be given to a select student at our March 14th charity gala, benefitting THINK Together – an after school program.
More importantly than the modest scholarship OCYE is able to give, is the relationships the OCYE Future Leaders' Scholar will make within the community of business leaders; last year's scholar Pia Ceres is finishing her first year at Brown University and has remained in constant contact with OCYE's leadership. In fact, OCYE will include prior scholar recipients in the decision making process – enabling the young would-be leaders with an opportunity to engage in the philanthropic process.
Orange County Young Executives is a non-profit organization whose main foci include economic development, leadership building, and philanthropic ventures. Although we are a growing organization, we have assembled one of the most highly respected groups of individuals under the age of 45. We hail from a variety of fields including: Finance, Law, Recruiting, Medicine, and many more. We believe by rewarding the students who show the most promise as the leaders of tomorrow, we are securing a brighter future for our community.