Santa Ana City Council Ward 3 candidate Ana Urzúa Alcaraz is kicking off her campaign on Sunday, Sep. 4, 2016, from 4 to 7 p.m. at 2801 Waverly St., in Santa Ana.
Ward 3 is currently held by Angie Amezcua, who was accidentally elected four years ago when she ran for the office but did not spend a penny on her campaign and did not campaign. She was the only woman on the ballot and her ballot title, "teacher", did not hurt. Nor did her familiar-sounding last name.

Guess who is the only woman running for Ward 3 this time around? Yep. Alcaraz. And there are a bunch of guys on the ballot in Ward 3 – just like last time around.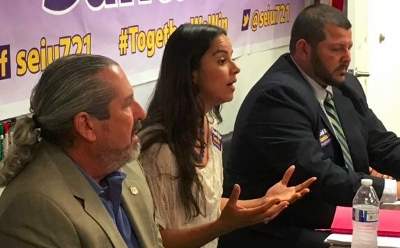 Here's Alcaraz's bio:
I'm Ana Urzua Alcaraz, a longtime resident and advocate for Santa Ana's working families, and I'd like to share with you how I came to run for City Council.
Like so many young people in our city today, I immigrated with my parents to the United States at a young age and first arrived in our city of Santa Ana. I attended Lowell Elementary School, enjoyed summers at the Salvador Community Center pool, and shopped downtown at Calle Cuatro. I am the proud daughter of hard-working parents and a close-knit family.
From a young age, I learned that Santa Ana's greatest resource was its residents.I sought out avenues to empower youth and improve the lives of Santa Ana families – first as a volunteer music teacher, then as community organizer, and finally as a public health advocate. In the meantime, I graduated from UC Irvine with a BA in Anthropology.
Most recently, I had the honor to serve with several non-profit and community based organizations to concretely improve the lives of Santa Ana families. Alongside parents, youth, workers, and small businesses, we have successfully advocated for community benefits, such as affordable housing, lower rent for small business, and establishing community centers and public parks.
I am especially proud of the vibrant and diverse effort to bring greater transparency and inclusion to our local government and a more democratic process for development that we won in 2012 through the Sunshine Ordinance.
Over the years, Santa Ana has given me more than I could ever give. While offering arts and music classes, I learned about being proud of where I come from and not being afraid of raising my voice in song or protest. From the courageous families in the Lacy and Logan neighborhoods, I learned that those directly impacted by city policies must have a say in planning and decision-making, no excuses.
That is why I am running.
Too many Santa Ana families remain alienated from our city's political process. As a young, immigrant woman, I know what it means to be silenced or have no seat at the table. But I also know how empowering it is to participate. Most importantly, I know what it would mean to tap into the energy of Santa Ana's youth, as well as our workers, and entrepreneurs.
I will build on my strong track record of lifting up the voices of those who do not yet have a seat at the table and dedicate myself to ensuring healthy investments in our youth, families, and neighborhoods. It's time to challenge ineffective career politicians and lobbyists who are far removed from the concerns of Santa Ana residents.
Santa Ana will thrive when we invest in our residents – our families, our neighborhoods, and our youth. Vote for me on Tuesday, November 8th! Our future depends on all of us.
Now, let's get to work!
Learn more about her at http://www.ana4citycouncil.com/.