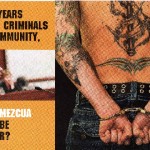 Santa Ana Mayoral Candidate Alfredo Amezcua was completely wrecked today by a pair of mailers that highlighted his defense of gang bangers and drug dealers, and the fraud he committeed while receiving 19 traffic tickets.
In the criminal mailer, Amezcua's law practice specialties are quoted.  They include working for "dead beat dads," which is something he should know about; child molesters and sex offenders; gang members; and even drunk drivers.
Amezcua has been harping a lot about crime, but thanks to him a lot of criminals are running free today.
The mailer even discloses that Amezcua represented someone who raped a 13-year old girl, and then he tried to kill her after she reported the incident!
I wonder how many of these guys are walking precincts for Amezcua?
Amezcua really got burned in the mailer about his traffic record.  He clearly got caught altering court records in order to protect what is left of his driving record.  This is fraud!  So much for his talk about integrity.  We now know better.
In related news, Amezcua sent out another fraudulent mailer claiming that he has the support of Congresswoman Loretta Sanchez.  No, he doesn't.  He is a liar.  He will do and say anything to get elected.
I drove by Usual Suspect Debbie McEwens's house today.  She is the lady who put up traffic barriers in French Park, to keep the Mexicans out.  Now she has an Amezcua sign in her yard.  She might change her mind after she sees these mailers!  But that aside, why would Amezcua seek the support of a woman who cannot stand his own people?
You can see the traffic mailer at this link.