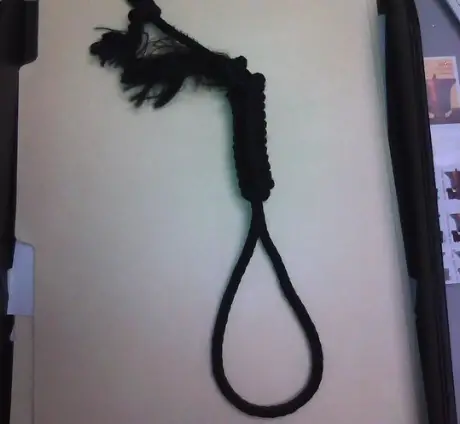 Mel Distel, a student at Long Beach state, showed up at the Santa Ana office of Equality California on Thursday night, this week, to make phone calls on behalf of Democratic Assembly candidate Melissa Fox. But what she found was disturbing.  There was a small noose hanging from the door handle.
To understand the full implication of this you have to know that many young gay people have died this year, often hanging themselves, in reaction to being bullied at their schools.
Since it was founded in 1998, Equality California has strategically moved California from a state with extremely limited legal protections for lesbian, gay, bisexual and transgender (LGBT) individuals to a state with some of the most comprehensive civil rights protections in the nation.
Obviously the noose that was left on the EQCA office's door handle was not left there accidentally.  Someone wanted to terrorize them and that is exactly what came to pass.
Distel called the Santa Ana Police Department, according to a note he wrote on Facebook.  Unfortunately the responding officers didn't understand the full implication of what had happened.
Here is how Distel described what happened:
When the police arrived, two officers spoke to Daniel and myself outside. The male officer dominated the conversation. There was nothing they could do, of course, there was no suspect and no crime had been committed. The officer said "what it is, is a string on a door." My vision got blurry, I was embarrased and felt stupid for making the call. I took a deep breath and said "Do you see any correlation between the fact that this is a gay office and there was a noose left on our door in the wake of all of these teen suicides?" The officer said, "Sometimes you just have to live with being a victim," and proceeded to mention that his car had been broken into before. As if that's the same. As if having your stereo stolen is anything like the message "You should kill yourself." As if random theft is anything like an act meant to convey hate and stir up fear in the heart of a minority group.
Fox is already talking to the SAPD about this.  I know that SAPD Chief Paul Walters will take care of this.
The broader issue is who did this?  Was it someone affiliated with the campaign of Don Wagner, the anti-gay Republican who is running against Fox?  We may never know.  But as a community we must reject the hatred represented by that noose.
This sure sounds like a job for the Orange County Human Relations Commission!
UPDATE:  Fox released this statement, in reaction to the noose incident, on Facebook:
The noose that was left last night at the Equality California office in Santa Ana is a despicable and hateful act, clearly intended to threaten and intimidate Equality California and other supporters of marriage equality from exercising our Constitutional rights to free speech and free association.

A noose is an historic symbol of lynching. It is no coincidence that it was left at the Equality California office just days before Election Day.

I condemn this act of hatred and threat of violence in the strongest terms, and I call on the Santa Ana police department and the Orange County District Attorney to conduct a complete and through investigation.

I also call on every elected official in Orange County, and all candidates for elected office, to publicly and unequivocally condemn this reprehensible act of domestic terrorism.