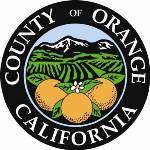 Chairman's Homelessness Update: After Clearing the Riverbed, Orange County Invests in Long-Term Solutions for Homelessness
Santa Ana, Calif. (March 2, 2018) – Orange County Board of Supervisors Chairman Andrew Do provides the sixth edition of his weekly update on the continuous and consistent progress in addressing homelessness.

SANTA ANA RIVERBED: BEFORE AND AFTER
The County delivered on its promise to motel-shelter all those living on the riverbed. Here is an aerial view of the riverbed before and after sheltering over 700 homeless individuals:
NEARLY 700 INDIVIDUALS MOTEL-SHELTERED
The Santa Ana Riverbed Trail was officially cleared as of Monday, February 26, 2018. All individuals who had previously been encamped along the banks were linked with services and shelter in the form of motel vouchers, shelter beds, and alternative housing placement.
Orange County Health Care Agency staff worked tirelessly to provide individuals with comprehensive case management services in order to locate placement based on their unique situations and needs. Resources provided by the County and its partners included linkages to recuperative care facilities and treatment centers, wraparound services such as mental health or medical care, and a multitude of other supports.
The number of individuals who made exits into shelter from the Riverbed since the beginning of February are as follows: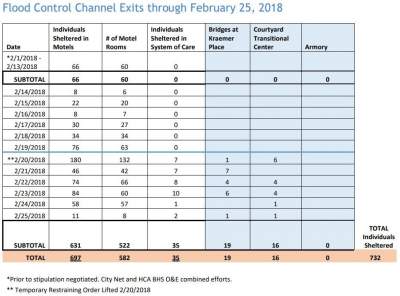 PROVIDING LONG-TERM SOLUTIONS TO HOMELESSNESS
On Tuesday, the Orange County Board of Supervisors (Board) approved the purchase of what will soon become Orange County's first publicly-owned mental health facility. This new and much-needed infrastructure is aimed at addressing some of the root causes of homelessness is expected to open in as little as 24 months.
Mental health services and substance use disorder treatment are directly linked to homelessness. According to the Orange County Rescue Mission, "58 percent of the people who sought services from the mission in 2016 and 2017 self-identify as having a chemical dependency. And 33 percent stated that they have a mental illness."
The $26 million investment will be used to convert an office building located in the city of Orange into a mental health and substance use disorder treatment center, owned and operated by the County. By renovating an existing structure rather than building a project from the ground-up, the County will save $9 million and open 12 months sooner.
The vision for the campus-style 44,556-square-foot facility is to offer co-located mental health and substance use disorder treatment along with a menu of services including:
Crisis Stabilization Unit
Substance Abuse Treatment
Crisis Recovery Beds
Outpatient Triage Center
Residential Psychiatric Treatment
"The County's accomplishment in motel-sheltering nearly 700 people who were previously encamped along the Riverbed will mean nothing if we do not ensure that meaningful, long-term solutions are created and implemented," said Chairman Andrew Do of the Orange County Board of Supervisors. "Investing in infrastructure necessary to address the root causes of homelessness and build our System of Care is tangible action that the Board is taking create lasting success."
EXTENDING AVAILABILITY OF 400 EMERGENCY SHELTER BEDS
On Tuesday, the Board also approved funding to keep the Mercy House Living Centers, Inc. Armory Emergency Shelters open through April 15, 2018. This extends the availability of 400 emergency shelter beds for the homeless.
Traditionally, the Armory shelters are available in the winter months. The County opened the Armories early in October 2017.
The increased funding will allow for:
additional transportation to allow for additional pick-up locations and bus passes, more housing navigator staff,
an estimate for the need of portable restrooms to address potential sewer capacity,
and, if needed, 24 hour operations during inclement weather.
The Fullerton Armory is located at 400 S. Brookhurst (Near Brookhurst/Valencia). Doors open at this location at 7:00 p.m.
The Santa Ana Armory is located at 612 E. Warner (Near Warner/Main). Doors open at this location at 7:00 p.m.
Bus pickup locations:
Fullerton:
Pick up at 6:00 p.m. at the 200 block of E. Santa Fe South, side of street between S. Pomona Ave & N. Lemon Street
Santa Ana:
Pick up #1 at 6:00pm at Flower & Civic Center near 6th Street Santa Ana
Pick up #2 at 6:15pm at 1901 W Walnut, Santa Ana
Additional Information:
No weapons, drugs, or alcohol will be permitted in or around the shelter
Clients are required to have their photos taken upon intake
Services include a warm meal, a sleeping mat and blanket, and the opportunity to shower
All clients must exit the shelter at 6:00 a.m. each morning
ORANGE COUNTY'S COMPREHENSIVE HOMELESS RESPONSE
As of February 26, more than 700 people have been provided temporary housing and received direct assistance to public services. 250 tons of trash, 1,100 pounds of human waste and 5,000 hypodermic needles have already been cleared from the riverbed encampment.
In addition to clearing the Santa Ana Riverbed homeless encampment, Orange County has taken major steps as part of its comprehensive homeless response:
Opened an emergency homeless shelter in Santa Ana
Hired a homeless czar to cut through bureaucratic red tape
Built a homeless shelter and service center in Anaheim
Launched a $33 million Whole Person Care pilot program
Directed $20 million for permanent supportive housing programs
Linked 732 individuals to motel-housing, shelter beds and treatment facilities
Purchased property for $26 million mental health facility
Extended the availability of 400 emergency shelter beds
To view Chairman Andrew Do's past Homelessness Updates, click here.
WHERE TO GO FOR SERVICES
Emergency Shelter:
Courtyard Transitional Center (714) 910-0408
Hospitality House 714-542-9576
WISE Place for Women 714-542-9576
Shelter & Housing:
HomeAid Family Care Center 714-263-1449
Illumination Foundation Emergency Shelter 714-507-2459
Serving People In Need 714-751-1101
Soup Kitchens & Food Pantries:
Southwest Community Center 714-547-4073
First Presbyterian Church of Garden Grove 714-534-2269
Lighthouse Outreach Ministries 949-548-7161
Someone Cares Soup Kitchen 949-548-8861
Welcome Home Ministry 714-962-2593
We Care of Los Alamitos 562-598-9790
Behavioral Health Services:
OC Health Care Agency Outreach & Engagement 800-364-2221
OC Health Care Agency Mental Health & Substance Use Disorder Services 714-896-7566
Acacia (Outpatient Methadone Services) 714-581-9181
Western Pacific Rehab Outpatient Methadone Services 714-821-5311
Community Health Clinics:
Serve the People 714-352-2911
Share Our Selves 949-270-2100
UCI Medical Center – Medical Clinic 657-282-6355
Employment Services:
One-Stop Center Phone 714-241-4900
Santa Ana WORK Center 714-565-2600
Legal Services:
Orange County Bar Association 949-440-6747
Legal Aid Society of Orange County 714-571-5204
Veteran Services:
OC Health Care Agency OC4Vets 714-480-6476
OC Veterans Service Office 714-480-6555
VA Community Resource and Referral Center 844-838-8300
Volunteers of America 714-426-9834
1736 Family Crisis Center 424-772-5668