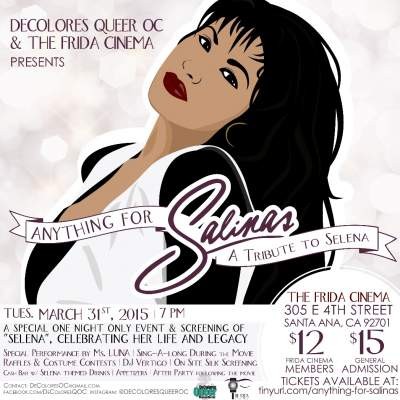 DeColores Queer Orange County & The Frida Cinema Invite you to : Anything for Salinas!" A Tribute to Selena.  A Special One Night Only Fundraiser Event and Screening of "Selena" The Movie, on Tuesday, March 31, 2015 at 7 pm, at Frida Cinema, located at 305 E. 4th St., in DTSA.
To commemorate Selena's life 20 years after her passing, we want to honor her by inviting the community to this fun-filled event! Folks are encouraged to dress up as Selena or an inspired costume there will be contests.
We will be raising funds to support local high school Gay Straight Alliance groups (GSAs) as well as for The Zoraida Reyes Scholarship fund that supports local Transgender individuals.
Tickets are now available online!: Click here for tickets http://tinyurl.com/anything-for-Salinas
General Entrance: $15/Frida Cinema Members: $12
Doors open at 7:00pm, Program and performances: 7:30pm, Movie Starts at: 8:30pm
We will have:

Our MC: SoCal's Premier Selena Impersonator Ms. Luna!
Dj Virtigo will be spinning some jams
Drag queen performances!
Contests!
Best Selena Overall Look
Best Selena Dance moves
Best Bustier
Sing-A-Long during the movie
Raffle prize baskets with Selena memorabilia
Cash bar with Selena themed drinks
Free appetizers
After party!
Tickets are selling! Get yours now at http://tinyurl.com/anything-for-salinas