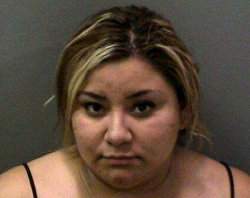 Rebecca Beltran, a Santa Ana resident, was sentenced on Friday, by O.C. Superior Court Judge Gregg L. Prickett, to a year in jail for lying to police in order to protect her boyfriend, Carlos Parra. He fled after he ran over a mother, Lady Audree Rebecca Hernandez, and her 3-year-old daughter, Miranda Palacios, with his car, in Anaheim.  The little girl was killed in that accident and her mother was injured, according to the O.C. Register.
Beltran, 27, was also placed on five years of formal probation, according to Senior Deputy District Attorney Jennifer Walker. A nearly four- year prison sentence was suspended so long as Beltran does not violate probation, the prosecutor said, according to My News LA.
Parra was driving a Nissan Maxima on the afternoon of Feb. 8, 2012, when he struck Hernandez and her daughter.  While the two were in a crosswalk on Gilbert Street at Guinida Lane in an unincorporated area at the border of Anaheim.  The mother and daughter were thrown from the crosswalk. They were both taken to a hospital, where the 3-year-old was pronounced dead, according to the O.C. Register.
Parra failed to brake or slow as he approached the crosswalk, according to the police. He drove off before the police showed up, but he left his car abandoned, with its alarm blaring, on a nearby street.
ParraParra pleaded guilty to felony counts of vehicular manslaughter, hit-and-run with serious and permanent injury and a misdemeanor count of posession of a controlled substance.  He was sentenced to nine years in prison on March 6.  At the time of the hit-and-run crash, he was out on bail for an unrelated robbery case. He was believed to be the driver in that robbery, and was suspected of using the same car that eventually killed little Miranda Palacios.