Juan Bustamante, a 53-year-old man from Santa Ana, was arrested on suspicion of DUI on Saturday after he drove his pickup truck through the front of one restaurant and the kitchen of another at the LAB Anti-Mall in Costa Mesa, at the 2930 Bristol Street.
Three people were injured as a result of the DUI collision. The injured included Bustamante and a pregnant restaurant employee.
Who will you vote for in the Santa Ana Mayoral Election in November?
Bustamante was arrested at the scene by the Costa Mesa Police Dept.
The police reported that Bustamanate's pickup truck likely ran a red light and sideswiped another vehicle at around 5:15 p.m. The truck then went over a curb and into the parking lot at the LAB.
The truck crashed through the front of local eatery Bred's Nashville Hot Chicken and busted through a wall and into the neighboring Seabirds Kitchen, a popular vegan restaurant.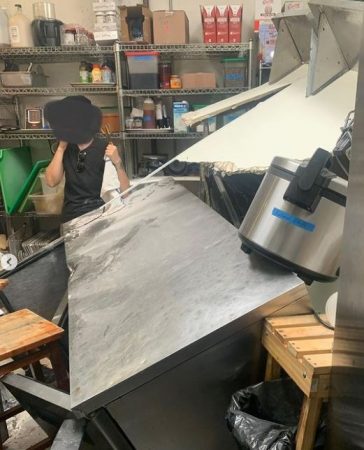 Seabirds shared photos of a large metal fridge that had been knocked over by the DUI driver's truck, in an Instagram post.
A store manager who was working in Seabirds Kitchen suffered a broken leg from the crash, according to the restaurant. She was scheduled to go on maternity leave the following day.
Fortunately no patrons were at Bred's restaurant at the time of the DUI collision.