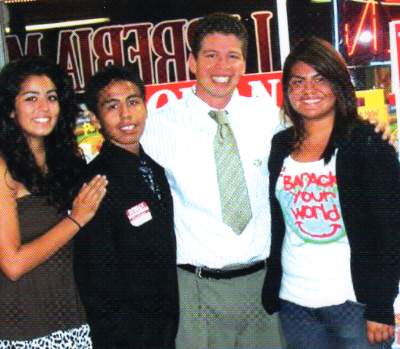 It is a rite of passage in just about every Western culture.  You watch your dad put on ties, perhaps on Sunday while getting dressed for Church.  One day, perhaps when you go to you first prom, your dad teaches you how to put on a tie yourself.
Santa Ana City Council candidate Roman Reyna apparently has not yet learned how to put on his own tie.  He sent out a mailer that a friend of mine received today, wherein Reyna appears to be rocking a clip on that is far too short (see the picture above).  
"People in white collar occupations are often mocked for wearing a clip-on tie in lieu of a standard necktie, the implication being that refusal to learn how to tie a "proper" tie reflects a wider lack of sophistication," according to Wikipedia.
Is this really that big a deal?  In a way, yes it is.  You see Reyna clearly isn't ready for prime time.  Yet he is walking away from the SAUSD School Board and he is now trying to get elected to replace Santa Ana Mayor Pro Tem Claudia Alvarez, in Ward 5.  With all due respect, Reyna is barely qualified to wash her car, much less replace her.
Reyna has spent his entire adult life working at the Santa Ana Parks and Recreation Department, the Santa Ana Boys and Girls Club and the Santa Ana YMCA.  If he was running for the position of Santa Ana Community Picnic Coordinator he would have my vote!  But he isn't.  He is running for the Santa Ana City Council.
Reyna's opponent, Karina Onofre, is the exact opposite of Reyna.  She is educated and polished.  She works in property management, a demanding profession, and has owned her own publishing business.  She will not embarrass our city.  I can't say that for Reyna.  He has already embarrassed himself and our city with his first campaign mailer!
Is there anything positive I can say about Reyna?  I took a look again at his campaign website and clicked on "About Me."  Here is what came up when I did that:
Error: There was no reference code passed to this page, so a submitted form could not be found. You may browse to a submitted form from a form list view page. 

Go back

.
Sigh.  If this guy wins can you only imagine what he and his bosom buddy David Benavides, and their like-minded pal Michele Martinez will do?  As it currently stands they are supporting every single tax increase measure on the November ballot.  God help us.  Sure, the rest of the Council will quickly relegate them to the little kids' table, but the harm will be done.  And we will be stuck with Reya  for four long years.
Be sure to vote on Nov. 6.  And please vote for Onofre in Ward 5.