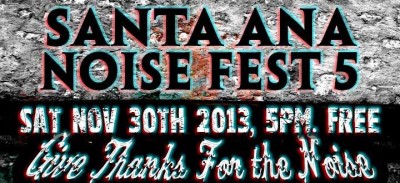 Tis' the Season to Give Thanks for the Noise! The historic 5th Anniversary of the Santa Ana Experimental and Noise Based Music Festival is set for today, Saturday, Nov. 30, at 5 pm, at the Orange County Center for Contemporary Art, located at 117 N Sycamore St., in Downtown Santa Ana.
Line up:

10:00 PM Telecaves
9:40 to 10:00 Set up
9:40 PM Endometruim Cuntplow
9:20 PM XSXCXEXBX
9:00 PM +DOG+
8:40 to 9:00 Set up
8:20 PM Cold Grey Eye
8:00 PM Virons
7:40 PM Dragonsoundz System
7:20 to 7:40 Set up
7:00 PM Skunk Puppet
6:40 PM Invisible Path
6:20 PM Petit Sac
6:00 to 6:20 Set up
5:40 PM Insuu Bunkai
5:20 PM jesus is Dead
5:00 PM phog masheeen
4:00 Load in
Don't know what the 'Noise' is about: http://en.wikipedia.org/wiki/Noise_music.
Noise video by Ana Lagidze.