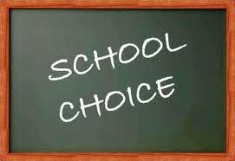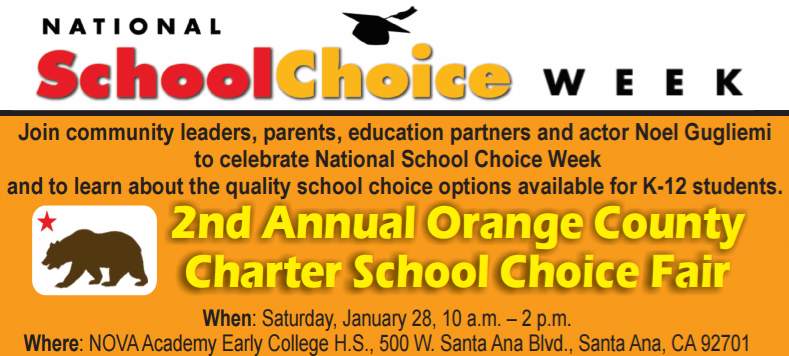 2nd Annual Orange County School Choice Fair, January 28
Local charter schools, community leaders and education partners will participate in the National School Choice Week celebration
SANTA ANA, Calif. – In celebration of National School Choice Week, California Policy Center along with local charter schools will host the 2nd Annual Orange County Public Charter School Choice Information and Enrollment Fair on January 28 at NOVA Academy Early College High School.
Representatives from Orange County public charter schools, ranging from K-12 will be available to help families understand the enrollment process to public charter schools for their children.
The fair will be open to the public from 10 a.m. – 2 p.m. with a program at 10:30 am to include remarks by Assemblymember Steven Choi, Mexican Consulate Mario Cuevas, Senator Gloria Romero (Ret), Santa Ana Councilmember Juan Villegas, SAUSD School Board member Cecilia Iglesias and actor Noel Gugliemi. There will be student performances and charter school information sessions.
According to state data, local public charter schools have raised student performance the last several years. Charter schools are free public schools that provide quality public education options to families.
Many charter schools offer longer school days, personalized learning programs, project-based learning, and such specialized curriculum as college prep, arts, or Science/Technology/Engineering/Math (or STEM) focused.
Demand for such free, prestigious schools is high. If more students apply than the number of seats available, a public lottery is held at each campus to determine enrollment.
"We look forward to hosting this historic event for Orange County families," said NOVA Academy Public Schools' Chief Executive Officer Renee Lancaster. "Our primary goal is to help parents explore public school options and find a great fit for their child. When parents choose, students win."
What: 2nd annual Orange County School Choice Fair
When: Saturday, January 28, 10 a.m. – 2 p.m.
Where: NOVA Academy Early College High School, 500 W. Santa Ana Blvd., Santa Ana, CA
92701
For more information:
Cecilia Iglesias, Education and Community Relations Director, California Policy Center
(714) 573-2208, cecilia@calpolicycenter.org