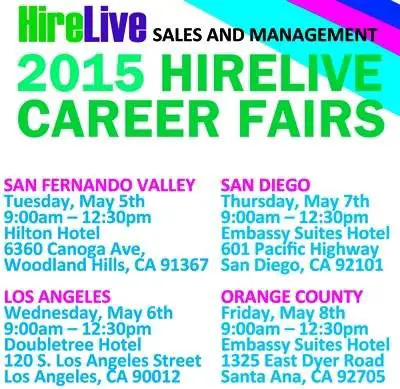 HireLive is hosting a Career Fair in Santa Ana on May 8, 2015, for Recent College Grads and Sales Representatives.
Many of the companies they work with offer some of the following:
Base + Uncapped Commission Pay Structure
Flexible Work Schedule
Full Benefits, 401K, Stock Options
Company Car or Gas Allowances
President Club Trips & Other Incentives
Opportunity for Immense Growth
$70k + 1st Yr Salaries
Friday, May 8th, 9:00am – 12:30pm at the Embassy Suites Hotel, located at 1325 East Dyer Road, in Santa Ana.
Parking: 15 minutes–2 Hours: $4.00 // 2 Hours–4 Hours: $6.00
● Bring 10-15 Resumes ● Dress Business Professional ● This is a free event for job seekers
Job Opportunities include:
Inside Sales Reps, Outside Sales Reps, Account Executives, Retail Managers, Account Managers, Insurance Sales, Customer Service, Technical Sales, Sales Managers, Pharmaceutical Sales, Telesales, Sales Trainer, Merchandiser, Mortgage Brokers, Financial Planner, Route Sales, Retail Sales, Retail Management, Human Resources and much more!