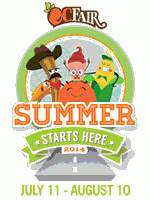 Full Concert Schedule for the Toyota Summer Concert Series at the Pacific Amphitheatre at the 2014 OC Fair Announced
Featuring 23 nights of performances by The Go-Go's, Bad Religion, Little Big Town,
Deep Purple, Rebelution and more

Costa Mesa, Calif. (June 2014) – The Toyota Summer Concert Series at the Pacific Amphitheatre at the 2014 OC Fair will feature 23 nights of concerts performed by world renowned artists and musicians. Ranging from the unique genres of reggae, pop, classic rock and country, it is a one-of-a-kind concert series that will get you into the summer groove. The series opens with The Offspring / Adolescents on July 11 and will continue through August 10. Pacific Amphitheatre concert tickets are affordable with prices starting at $15 and, as always, include free OC Fair admission.
Toyota Summer Concert Series at the Pacific Amphitheatre at the 2014 OC Fair:
The Offspring / Adolescents
Friday, July 11, 7:45 p.m.
Orange County natives The Offspring formed in 1984 and since then have released eight albums and performed in more than 1,000 shows around the world. The Adolescents was formed in Fullerton, CA in 1980 by former members of Agent Orange and Social Distortion.
Which One's Pink – A Tribute to the Music of Pink Floyd
Saturday, July 12, 8:15 p.m.
In commemoration of the 35th anniversary of Pink Floyd's album The Wall, Los Angeles-based Which One's Pink? will offer the Pacific Amphitheatre audience a live performance of the album in its entirety, with a stunning display of vocals and visual effects.
Matisyahu / Tribal Seeds / The Lions
Sunday, July 13, 6 p.m.
The musical artistry of Matisyahu is a fusion of contemporary reggae, beatboxing, rap, hip-hop and traditional scat-singing and Jewish hazzan style. Based in San Diego, Tribal Seeds is a reggae band, heavily influenced by artists Bob Marley, Steel Pulse and Midnite. Known as Los Angeles' own all-star reggae band, The Lions perform with a masterful style of novel and traditional grooves with a mishmash of dub-mixing and tribal sounds of Ethiopia and Columbia.
Jeff Dunham
Wednesday, July 16, 8:15 p.m.
Comedian Jeff Dunham will bring his 2014 Disorderly Conduct Tour to the Pacific Amphitheatre stage with his entourage of signature characters including grumpy Walter, the spicy Jose Jalapeno and more.
Bad Religion / X
Thursday, July 17, 7:45 p.m.
Bad Religion formed in Los Angeles in 1979 and has since released 16 studio albums with the latest last year called "True North." Since forming in the late 1970s, X has been influential in the punk rock world offering relevant and innovative sounds to audiences while still retaining original members John Doe, Billy Zoom, Exene Cervenka and DJ Bonebrake.
Karmin / Fifth Harmony
Friday, July 18, 7:45 p.m.
From more than 200 million hits on YouTube to their double-platinum hit "Brokenhearted," Karmin is the dynamic duo of Amy Heidemann and Nick Noonan. With Amy's jazzy and enthralling vocals and Nick's natural rhythm, the two can stir up an enticing performance of a hip-hop influenced pop-rock sound. The all-girl Fifth Harmony began their individual stardoms on the hit TV show "The X-Factor," where music industry buff Simon Cowell joined the five talented singers to form the hit pop quintet that is looking forward to success with the release of their first album "Better Together."
Ziggy Marley / The Expanders
Saturday, July 19, 7:30 p.m.
As the oldest son of reggae music legend Bob Marley, Ziggy Marley has earned his own accolades as an artist with four Grammys, including Best Reggae Album. The Expanders are a Southern California reggae band with a vintage reggae sound similar to 1970s Jamaican groups like The Ethiopians, The Gladiators and The Mighty Diamonds.
The Happy Together Tour
Sunday, July 20, 7:45 p.m.
The Happy Together Tour returns to the Pacific Amphitheatre at the OC Fair with classic performances from Herman's Hermits starring Peter Noone, The Turtles, Chuck Negron (the original voice of Three Dog Night), Mark Farner (formerly of Grand Funk Railroad), Mitch Ryder & The Detroit Wheels, and Gary Lewis & The Playboys.
Pat Benatar & Neil Giraldo / Berlin / Madasen McGrath
Wednesday, July 23, 7:15 p.m.
Dynamic rock duo Pat Benatar & Neil Giraldo have been blazing musical trails since the 1970s with hits like "Heartbreaker," "Love Is a Battlefield" and "Hit Me With Your Best Shot." Led by the iconic vocals of Terri Nunn, Los Angeles-based Berlin has been called the "Greatest Synth Electro-Pop Band of All Time," with hits like "Take My Breath Away" and "Metro."  At only 16 years old, Southern California native Madasen McGrath has already started to build a reputation as a talented singer-songwriter-guitarist and will offer an entertaining return to the Pacific Amphitheatre stage.
LeAnn Rimes / Kristian Bush of Sugarland
Thursday, July 24, 7:30 p.m.
LeAnn Rimes, an American country and pop singer, rose to stardom at the young age of 13 after the release of her first debut album, "Blue," reaching No. 1 on the Top Country Albums chart in 1996. LeAnn continued to pursue music and has received many awards including two Grammys and an American Music Award. Kristian Bush founded Sugarland in 2002 with singer Jennifer Nettles and is currently working on his first solo album to be released this summer.
The Go-Go's
Friday, July 25, 8:15 p.m.
The Go-Go's are an all-female, American rock band formed in 1978 in the heart of Los Angeles. They rose to stardom as the first and only all-female rock band known to compose and play their own instruments. It won't be their first time jamming out at the OC Fair, so join these rock pioneers as they return to the Pacific Amphitheatre stage with their hit songs.
Jeff Foxworthy
Saturday, July 26, 8:15 p.m.
Jeff Foxworthy is a well-respected comedian, personality and television personality, host and author. He is known for his "You might be a redneck" one liners, his 11 best-selling books including his autobiography, "No Shirt, No Shoes… No Problem!" and as a host for one of America's most popular game shows, "Are You Smarter Than a Fifth Grader?"
John Kay & Steppenwolf / The Grass Roots
Sunday, July 27, 7:45 p.m.
John Kay & Steppenwolf is recognized as one of rock's most respected bands. While most rock bands last from a few months to a few years, John Kay & Steppenwolf preserved rock 'n' roll through their resilience and edgy restlessness.The Grass Roots is an American rock band that reigned from 1966 to 1975. During their nine years of life and beyond, The Grass Roots produced the finest rock music and have sold more than 20 million records worldwide.
Lifehouse / Five For Fighting
Wednesday, July 30, 7:30 p.m.
Born in the heart of Los Angeles, Lifehouse is an all-American rock band.  In 2001, Lifehouse went mainstream with their hit single, "Hanging by a Moment," which was No. 1 for three weeks on the Billboard Modern Rock Tracks and No. 2 on the Billboard Hot 100. American singer-songwriter, Vladimir John Ondrasik III, who goes by the name Five For Fighting onstage, is prominently known for his piano-based rock style. His hit singles "Superman," "100 Years" and "The Riddle" have all reached the Top 40 charts.
Little Big Town / Sara Haze
Thursday, July 31, 7:45 p.m.
Little Big Town has continued to grow since they last performed on the Pacific Amphitheatre stage in 2007 and have sold more than 1.5 million records and earned multiple nominations and awards from the GRAMMY Awards, Country Music Association (CMA), Academy of Country Music (ACM), Country Music Television (CMT) and more. Sara Haze, an Orange County native, returns to the Pacific Amphitheatre stage for a second year in a row with her powerful and emotional music that has been featured on hit TV shows "One Life to Live," "The Young & The Restless" and "America's Next Top Model."
The Fresh Beat Band
Friday, August 1, 6:45 p.m.
Twist, Kiki, Shout and Marina are the fresh beats of Nickelodeon's The Fresh Beat Band performing a live-action spin-off of their Nick Jr. preschool series by the same name. This family-friendly production offers tailored pop songs, dancing and a ton of confetti.
The Fab Four – When The Beatles Hit America
Saturday, August 2, 8 p.m.
When The Beatles arrived in America in the 1960s it was a momentous occasion for pop fans across the nation. Today, The Fab Four keeps the spirit and sound of the iconic band alive with an incredible stage show with costume changes and all the energy fans from any generation adores about The Beatles.
311 / Wheeland Brothers
Sunday, August 3, 7:15 p.m.
311 was formed in Omaha, Nebraska in 1990 and since then have released 11 studio albums. Their unique mix of rock, rap, reggae and funk helped them sell more than 8.5 million albums in the U.S. Orange County natives the Wheeland Brothers mix their laid-back surfer attitudes and mix it with some summertime reggae energy to create their down-to-earth acoustic rock and ukulele lullaby sound.
Deep Purple / Blue Oyster Cult
Wednesday, August 6, 7:45 p.m.
English rock band Deep Purple was originally formed in 1968 as a progressive rock band and over the years has been influential in the growth of heavy metal and modern hard rock. Blue Oyster Cult has been delighting audiences with its dynamic and energetic heavy metal performance since forming on a college campus in 1967. They are best known for hits like "(Don't Fear) The Reaper" and "Burnin' For You."
Billy Currington / Lucy Hale
Thursday, August 7, 7:45 p.m.
Plucked in 2003 from a challenging life as a construction worker and personal trainer by day and country singer by night in Nashville, Billy Currington has since released six albums and earned a Country Music Television (CMT) award for Hottest Video in 2006 for "Must Be Doin' Something Right" and nominations for a GRAMMY and an Academy of Country Music (ACM) awards for his 2010 hit "People Are Crazy." Actress-singer Lucy Hale became famous for her role on the hit TV show "Pretty Little Liars" and is shifting gears to focus back on a childhood love of singing with therelease of her first album and tour.
Lynyrd Skynyrd / Jeramiah Red
Friday, August 8, 7:30 p.m.
Originating from Florida, Lynyrd Skynyrd, an American rock band, is best known for its southern hard-rock style, producing classic rock songs like "Sweet Home Alabama" and "Free Bird". A combination of indie sounds, a harmonica, gripping vocals and a blues guitar makes the band of Jeramiah Red. Their mesmerizing presence draws in the audience to indulge in the riveting charm of the band and its music.
Rebelution / Iration / The Green
Saturday, August 9 and Sunday, August 10, 6:30 p.m. both show dates
Since forming in 2004, California-based Rebelution has become a front-runner for grassroots, independent and tour-driven music groups as they performed throughout the nation and internationally in places like South America, New Zealand, Europe and more. Alternative/reggae group Iration brings a fusion of reggae, rock and pop with smooth original sounds that have audiences dancing and feeling the mellow vibes earning them top spots on iTunes and Billboard charts for best reggae albums and songs. Formed on the beautiful island of Oahu in 2009, The Green offers reggae and roots music with a cool Hawaiian vibe and earned top spots on iTunes and Billboard charts sincereleasing their first album in 2010.
The 2014 OC Fair, themed Summer Starts Here,is July 11 – August 10 and will bring 23 days of food, rides, exhibits, animals, music, action sports and fun, as well as the Super Pass, Toyota Summer Concert Series at the Pacific Amphitheatre and events in The Hangar and Action Sports Arena. The Fair is open Wednesday-Sunday. Concert tickets, action sports reserved seats, single-day general admission and the popular Super Pass are available for purchase online at ocfair.com or from the on-site Box Office. Free parking and shuttle service are available on Saturdays and Sundays from the Experian parking structure located off the Bristol St. exit of the 405 freeway.
The OC Fair & Event Center is located off the 405 and 55 freeways at 88 Fair Drive in Costa Mesa. For more information, please visit ocfair.com, become a fan at Facebook.com/OCFair, follow us at twitter.com/ocfair or call(714) 708-1500. Also, download the free OC Fair iPhone and Android apps available this summer.
###