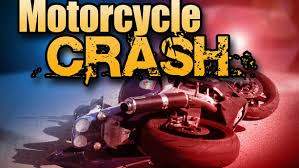 An unidentified 18-year-old man crashed into two vehicles on Tuesday night at around 7:30 p.m. while he was speeding on a 2015 KTM Sport motorcycle, in Costa Mesa, just south of Paularino Elementary School, according to the O.C. Register.
The victim was driving westbound in the right-hand lane of Baker Street, approaching Coolidge Ave.  Apparently he was driving too fast when he collided into a 1998 Chevrolet Tahoe that was being driven by 81-year-old Costa Mesa resident Gertrude Hall. She was in front the of the motorcyclist, in the same lane, when she began to turn right on Coolidge Avenue.  The motorcyclist was not expecting the turn by Hall and he ran right into the side of her SUV.
Then the situation worsened when the collision caused the victim to then veer off and crash into a 2008 Nissan Sentra being driven by Carlos Henriquez, a 46-year-old Costa Mesa man, who was on Coolidge Avenue.
The motorcyclist was taken to the Orange County Global Medical Center in Santa Ana in critical condition with a broken left leg, a possible fractured skull and several unidentified internal injuries.
Costa Mesa Fire Department officials took the motorcyclist to after he broke his left leg, possibly fractured his skull and caused several internal injuries. Apparently the motorcyclist is going to need to have surgery.
The accident caused Baker Street to be closed, but it was reopened before Wednesday morning, according to the police.