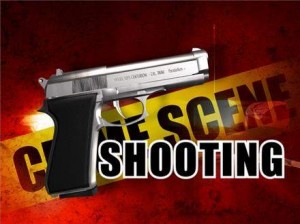 Police say a 15-year-old boy was on life support at UCI Medical Center in Orange on Tuesday following a shooting in an alleyway last week, according to the O.C. Register.
The incident happened at about 6:40 p.m. Friday in the 400 block of North Laurel Street, which is in Santa Ana Councilman Roman Reyna's Ward 5.  Police say the shooting was gang related.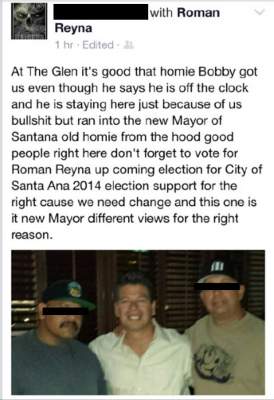 Reyna lost this year's Mayoral election after garnering under 35% of the vote.  During his campaign the Santa Ana Police Officers Association asked him to explain why a picture of him with two hard core gang bangers surfaced on Facebook.  Reyna blew them off.  Subsequently every law enforcement association in Orange County and even a statewide association refused to endorse him.
The Santa Ana Police Officers Association has asked Reyna to resign from the Santa Ana City Council's Public Safety Committee.  That certainly makes sense – if Reyna is still palling around with dangerous cholos.
Reyna comes up for reelection in Ward 5 in two years, in the 2016 General Election.