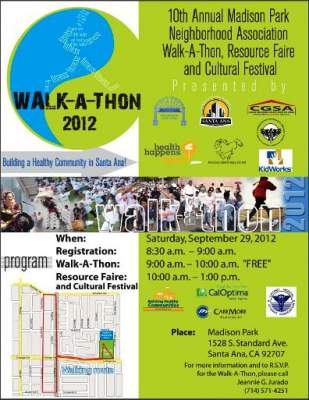 City of Santa Ana, Downtown Orange County Community Alert:
10th Annual Walk-A-Thon Resource Faire and Cultural Festival
SANTA ANA, CA (September 25, 2012) – On Saturday, September 29, 2012, the City of Santa Ana in conjunction with the Madison Neighborhood Association will hold a Madison Park Neighborhood Association Walk-A-Thon, Resource Faire and Cultural Festival at Madison Park. Registration will begin at 8:30 am; the walk will take place from 9:00 am to 10:00 am. The first three hundred participants will receive a free event t-shirt.
The Resource Faire and Cultural Festival will feature local talent such as the dragon dancers, ballet folklorico and a musical band from 10:00 am to 1:00 pm. The theme for the faire is "Building a Healthy Community in Santa Ana!" The event will be held at Madison Park, located at 1528 S. Standard Ave., Santa Ana, CA 92707.
A goal of Madison Park Neighborhood Association is to encourage residents to use the park and trail system often as they get fit and healthy. In 2005 the Association formed a partnership with the City of Santa Ana to combat illegal camping, graffiti, trash, and to improve the maintenance and the look of the park and trail system in their neighborhood.
The result of this interest was the creation of the first Safe and Active Living United District (SALUD) initiative. Madison Park SALUD is a committee of residents interested who meet with the City of Santa Ana's Parks, Recreation, and Community Services Agency to discuss ways to reduce safety concerns in the park and trail system and to improve the look of these areas. The residents have developed a passion for walking and use the park and trails to stay healthy and fit. The Madison SALUD Walking Club meets every Saturday morning for a brisk walk.
The Walk-A-Thon will start at Madison Park and loop into the trail and back. This wonderful event, which brings together many impressive volunteer efforts, is geared towards the entire family. The following organizations are helping with planning and sponsorships: Casa Guanajuato Santa Ana (CGSA), Latino Medical Student Association (LMSA) UCI, and Madison Elementary.
To participate in the free Walk-A-Thon event or for more information contact Community Services Supervisor Jeannie G. Jurado of Santa Ana Parks, Recreation & Community Services Agency at (714) 571-4251.
####
For full details, view this message on the web.