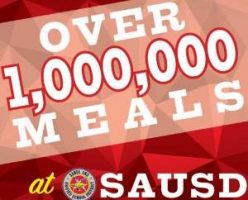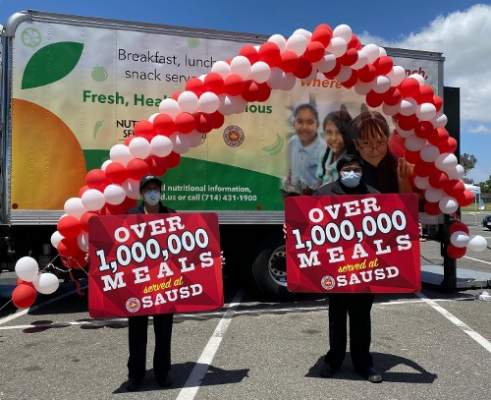 Santa Ana Unified School District (SAUSD) served its one millionth meal Wednesday to children since all campuses closed nearly two months ago to curb the spread of COVID-19.
The District reached this milestone during the midday meal distribution at Romero-Cruz Academy. The District acknowledged the one millionth meal served during a short celebration with balloons and banners to celebrate the hard work of all District staff that has worked to ensure every child who needs one receives a nutritious daily meal at no cost to families.
"During these challenging times, our food services team and other support staff have worked tirelessly to make sure that no child goes hungry," SAUSD Superintendent Jerry Almendarez said. "These essential workers have shown tremendous devotion to their job and to our community."
Under the guidance of the SAUSD Board of Education, the District has made it a priority to continue to provide all children ages 1-18 with nutritious daily meals at no cost to families throughout the duration of the temporary closure.
SAUSD distributes meals three days a week at 13 selected school sites, in a grab-and-go style that protects the health and safety of all involved. Breakfast and lunch packages are given out from 11 a.m. to 1 p.m. Mondays, Wednesdays and Fridays at the following sites:
Esqueda Elementary K-8 School, 2240 S. Main St., Santa Ana
Monte Vista Elementary School, 2116 W. Monta Vista Ave., Santa Ana
Martin Elementary School, 939 W. Wilshire Ave. Santa Ana
Madison Elementary School, 1124 E. Hobart St., Santa Ana
Romero Cruz Academy, 2701 W. Fifth St., Santa Ana
Carr Intermediate School, 2120 W. Edinger Ave., Santa Ana
Mendez Fundamental Intermediate, 2000 N. Bristol St., Santa Ana
Sierra Preparatory Academy, 2021 N. Grand Ave., Santa Ana
Villa Intermediate School, 1441 E. Chestnut Ave., Santa Ana
Willard Intermediate School, 1342 N. Ross St., Santa Ana
Saddleback High School, 2802 S. Flower St., Santa Ana
Santa Ana High School, 520 W. Walnut St., Santa Ana
Segerstrom High School, 2301 W. MacArthur Blvd., Santa Ana
For more information on SAUSD's free meal service, the public can call Nutrition Services at (714) 431-1900.