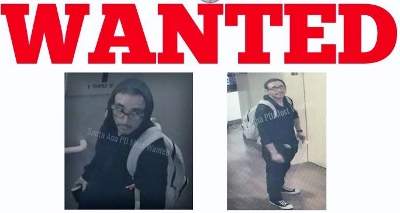 On 12/01/2019 at 5:30 AM, an unknown suspect intentionally lit a door on fire at a hotel located in the 100 block of East MacArthur Blvd. This unidentified suspect is a person of interest in this arson investigation.
Description: Male, Hispanic, 5'6", medium build, eyeglasses, dark hooded sweatshirt and pants, dark/light colored shoes, light colored backpack.
Anyone with information identifying the suspect in this case is asked to contact Detective A. Castro at (714) 245-8345 or acastro@santa-ana.org.