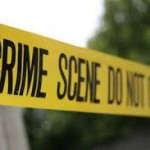 The AT&T store located on 17th Street and Grand Ave., in Santa Ana, was targeted by two armed men last night, just before 9 p.m., as the store employees were working on closing the store for the night, according to ABC News.

The two suspects, one armed with a shotgun, walked into the store with bandanas covering their faces. They forced the store clerk to go to a back room while they pilfered more than 40 smart phones as they held the clerk at gunpoint, according to the SAPD.
The two suspects took off in a car that was waiting for them outside with a third suspect behind the wheel.
The store clerk was fortunately not injured.
But the suspects did not get all that far. They were tracked by the OC Sheriff's helicopter, "Duke," which followed them until they got off the freeway at the Ortega Highway in San Juan Capistrano.
OC Sheriff's Deputies then arrested all three of the suspects. The Deputies found a shotgun and the stolen phones in their vehicle.

The men robber suspects included 21-year-old Andy Lopez of Riverside; 18-year-old Alex Perez of Chino; and 20-year-old David Martinez of Mira Loma.
The police are now checking with neighboring Counties, including Los Angeles and Riverside, to see if the arrested suspects could be linked to other robberies.
The bust would not have gone down without help from Duke's pilots.