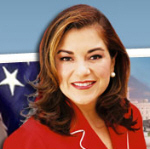 FOR IMMEDIATE RELEASE: October 17, 2013
MEDIA CONTACT: Barb Solish, 202-226-8373, Barb.Solish@mail.house.gov
REP. SANCHEZ RELEASES STATEMENT AFTER PASSAGE OF BIPARTISAN LEGISLATION OPENING GOVERNMENT
WASHINGTON – Today, Rep. Loretta Sanchez (CA-46) released the following statement after the passage of bipartisan legislation ending the government shutdown.
"I am glad that both parties were able to come to an agreement to end the government shutdown and avoid a total economic shutdown. We may not be able to get back the $24 billion lost in economic activity these last 16 days, but we can move forward on issues that have stalled long enough including common sense immigration reform, comprehensive tax reform and a sensible, long-term budget."
Congresswoman Loretta Sanchez is proud to represent California's 46th Congressional District, which includes the cities of Anaheim, Santa Ana, and parts of the cities of Garden Grove and Orange in Orange County. She serves as Ranking Member of the House Armed Services Subcommittee on Tactical Air and Land Forces and the second ranked Democrat on the Committee on Homeland Security. Rep. Sanchez is also a member of the fiscally conservative Blue Dog Coalition and sits on the bipartisan, bicameral Joint Economic Committee.
# # #