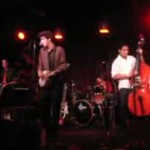 Patio Barbeque at the Bistro 400 with the Mad Marrionettes!
$5 Burgers and Sausages right off the GRILL! $3 Bud Light on Tap! Late Night Menu available ALL NIGHT! Check out this GREAT GROUP – Mad Marionettes! In the style of French Bohemian! Incredible Acoustical Madness! NO COVER! Just come in and EAT and DRINK!
Here's what to do if you are involved in a car accident. If you or someone you know has been in an accident contact Sasooness Law Group, APC
Office: 818-922-7700 Cell: 714-912-2520 (text or call) Email: mroyer@saslg.com www.saslawgroup.com
Date: Saturday, July 3, 2010
Time: 8:00pm – 11:00pm
Location: Bistro 400
Street: 400 W. 4th Street
City/Town: Santa Ana, CA
Click here to RSVP on Facebook.