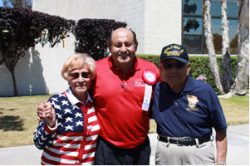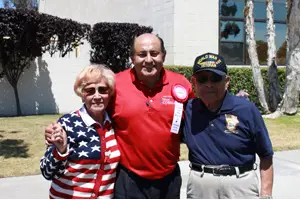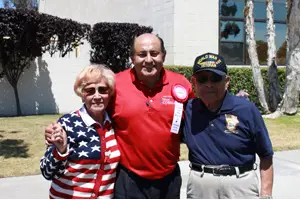 State Senator Lou Correa with Jesse and Nellie Saenz of Garden Grove
Dear Friends,
More than 200 years ago, our nation's Founding Fathers set out to create a blueprint for our freedom and democracy by writing the Declaration of Independence. On July 4, 1776, they built a foundation of democracy as immigrants from around the world who came to America looking for a better life. Every Fourth of July, we are thankful for the blessings of our great country.
As we join our families and friends for Fourth of July weekend, let's take some time to appreciate the freedoms we have in the United States. This is also an appropriate time to give thanks to our service members, past and present, for their strength and courage protecting our country every day.
Please be sure to take safety precautions while traveling, using the BBQ, and swimming this holiday weekend. Also, please remember fireworks are prohibited in most Orange County cities. For more information about Fourth of July safety tips, visit here.
From my family to yours, have a safe and memorable Independence Day!
Sincerely,
Lou Correa
State Senator, 34th District
Fireworks programs in Senator Correa's District:
Anaheim
4th of July Fire Works Show and Activities
Peralta Park & Canyon High School
July 3: 5:30 am to 10 pm
The Canyon Hills Community Council and the Anaheim Hills Rotary Club invite you to the 22nd annual Freedom Celebration. Activities will include a Firecracker run and walk, a pancake breakfast, a dog show, food and games, a Fourth of July parade, and a Fire Work's Show. Visit http://www.chccanaheim.com for more information.
Fullerton
July 4th Celebration
Fullerton High School Stadium
@ the corner of Lemon and Berkeley
July 4: 5 pm to 9:30 pm
An old-fashioned Independence Day celebration is in store for Saturday, July 4, when the City of Fullerton presents its Annual Community Fireworks Show and Festival. There will be live music, fireworks, games and food. Click here for more information.
Santa Ana
American Independence Day Celebration
Civic Center Plaza/Santa Ana Main Library
26 Civic Center Drive, Santa Ana
July 3: 10 am to 3 pm
Celebrate America's independence as Santa Ana honors the men and women who have kept the United States free. Events include a history walk, library book sale, children's fun zone, live music, booths, raffles and food.
Westminster
Independence Day Celebration
Sigler Park
7200 Plaza Street, Westminster
July 3: 11 am to 4 pm
Westminster's Independence Day Celebration will include fun for the whole family. Events include a car show, attractions for kids, live music, dancers, a DJ, and food.
For more information about summer events, camps, school programs and more in your city, visit these websites:
• http://www.anaheim.net/event/default.asp?calID=1&month=7&year=2010
• http://www.buenapark.com/Index.aspx?page=104
• http://www.buenaparklibrary.org/
• http://www.ci.fullerton.ca.us/cals/community_events/default.asp
• www.FullertonArtWalk.com
• http://www.fullertonrw.com/
• http://www.ci.garden-grove.ca.us/calendar/index.php?mo=7&yr=2010
• www.shakespeareoc.org
• http://www.ci.santa-ana.ca.us/cda/documents/FilmSeries.pdf
• http://www.santa-ana.org/library/newsevents/documents/ys_june10_cal.pdf
• http://www.ci.santa-ana.ca.us/parks/documents/SpecialInterest.pdf
 • www.santaanazoo.org
• www.discoverycube.org
• www.heritagemuseumoc.org
• www.bowers.org
• http://www.ci.stanton.ca.us/
• http://www.ci.westminster.co.us/scripts/evtcal/cal.asp?month=7&year=2010&cat=all&mode=m
California State Senator Lou Correa – District 34
Web site: http://www.senate.ca.gov/Correa
The website is now available with sections in Spanish, Vietnamese, Chinese, and Korean.
E-mail: Senator Lou Correa
Capitol Office
State Capitol, Room 5052
Sacramento, CA 95814
(916) 651-4034 District Office
2323 N. Broadway, Ste. 245
Santa Ana, CA 92706
(714) 558-4400