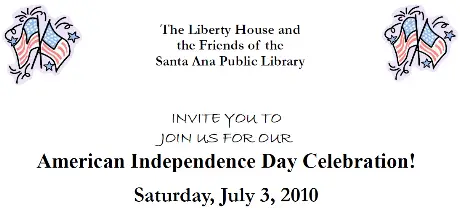 The Friends of the Santa Ana Public Library and the members of Liberty House will be hosting a 4th of July celebration on Saturday, July 3rd, 2010 from 10 am to 3 pm at Civic Center Plaza. 
The event is free and everyone is welcome! 
History Walk
Friends of the Library Book Sale
Children's Fun Zone
Steve Jackson's Brass Band
Quartet music
Booths & Raffles
For additional information, please call Tel: 714-514-7360 or 949-422-5485.
See the attached flyers in English and Spanish.
The Santa Ana Public Library is located at 26 Civic Center Plaza.  Click here to see a map.
Liberty House y los Amigos de la Biblioteca de Santa Ana
LOS INVITA A PARTICIPAR EN LA
¡Celebración de la Independencia de América!
El sábado 3 de julio del 2010 (PDF)
Main Library 10:00 a.m. to 3:00 p.m.
Paseo Histórico
Venta de libros
Juegos para los niños
Steve Jackson's Brass Band
Música de cuarteto
Casetas de información y rifas
Para mas información, llame al: Tel: 714-514-7360 ó 949-422-5485.