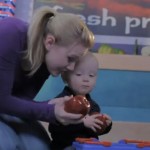 FOR IMMEDIATE RELEASE
Media Contact: Sharon Fain, 949.636.8189, sharon@revgroup.biz
ORANGE COUNTY PARENTS CAN LEARN LESSON FROM OSCAR WINNING KING'S SPEECH
Good To Go From Head To Toe Initiative Shows the Importance of Early Childhood Developmental Checkups
Irvine, Calif. (March 3, 2011) – This past weekend, moviegoers celebrated the Oscar win for Best Picture, "The King's Speech," but the movie is also a reminder to every parent to make sure their child is on a path to healthy development. Early detection of many developmental delays or challenges, like stuttering, can often be lessened or even overcome with the proper intervention.
Good To Go From Head To Toe, which focuses on children birth though age five, is creating awareness for Orange County parents about the need to stay on track with their child's fast-paced development. The initiative uses a variety of methods, like free health screenings and educational classes, to teach parents that developmental checkups are vital for monitoring healthy growth, including speech development. In the movie, King George IV suffered from a debilitating speech impediment since childhood and began receiving treatment as an adult. The movie successfully highlights that speech impairments can be minimalized, however early treatment in young children can effectively prevent stuttering (Source: The Stuttering Foundation, www.stutteringhelp.org).
"Many parents are unsure about having their child receive developmental checkups, often due to a lack of understanding of what they truly are. These head-to-toe assessments provide parents with a way to stay on track with every area of their child's development," Initiative Coordinator, Kryistyna Hook said. "At developmental checkups hosted by the initiative, Medical providers immediately connect parents to organizations that can support their child's development ensuring a more positive transition into school."
Developmental checkups are most often performed by a medical provider, but parents and caretakers can also do them at home, since parents know their children best. By filling out an Ages and Stages Questionnaire (ASQ) and mailing it in a prepaid envelope to a Good To Go evaluation partner, parents will learn how their child is progressing and be linked to appropriate resources for a variety of services. In addition to feedback about their child's development, parents also receive one complementary ticket to Pretend City Children's Museum for each completed and returned ASQ. Parents can get more information on developmental checkups at: www.begood2go.org
Good To Go's PSA campaign launched March 1, 2011 and creates awareness about healthy child development and the importance of developmental checkups.
PSA- Rhyming Fun at the Beach: http://www.youtube.com/watch?v=-XaD81UqA_Y
PSA- Round, Red, Crunchy Apples: http://www.youtube.com/watch?v=TccFn2TA_KY
ABOUT GOOD TO GO FROM HEAD TO TOE
Pretend City Children's Museum's child development initiative, Good To Go From Head To Toe, educates the community, parents and caretakers about the importance of having children (birth through age 5) receive regular developmental checkups as part of their routine well-child visits. Good To Go is made possible by a generous grant from the Children and Families Commission of Orange County. Learn more at www.begood2go.org.
ABOUT PRETEND CITY CHILDREN'S MUSEUM
Pretend City Children's Museum is a nonprofit 501(c)(3) educational organization, funded by charitable donations and the generous support of the community. It is the first educational facility of its kind in the western United States representing a small, interconnected city. The museum builds better brains through whole-body learning experiences, educational programming and over 15 permanent exhibits that empower children to learn about, meaningfully connect with, and expand their world. It is a unique community resource where families, educators and community agencies come together to help each child reach their greatest potential. The museum is located at 29 Hubble, Irvine, CA 92618. For more information, please visit www.pretendcity.org.
###