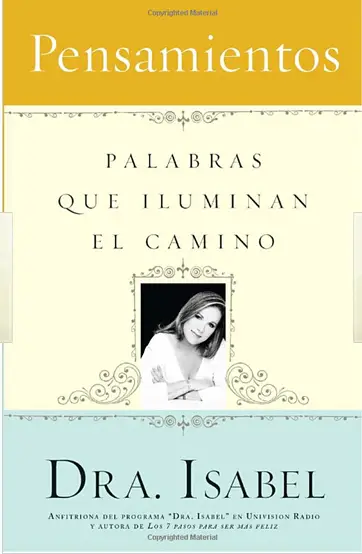 Don't miss the book signing by Dra. Isabel Gómez-Bassols, coming up at Martinez Books & Art Gallery, in Santa Ana, on Jan. 29.

Dra. Gomez-Bassols will be signing her new book, "Pensamientos: Palabras que iluminan el camino."
Dra. Gómez-Bassols, better known to her legion of fans around the country as "la Doctora Isabel, el Angel de la Radio" (Dr. Isabel, the Angel of the Airwaves), is the nation's foremost Hispanic radio psychologist.
A Latina version of Dr. Laura, Dr. Ruth, Ann Landers and Dr. Spock all rolled into one, her immensely popular, live, call-in talk show, "Doctora Isabel," Monday-Friday, 1-4 PM (Eastern Time) is beamed coast to coast daily on the Spanish-language RadioCadena Univision. This warm, thoughtful and charismatic doctor, with a motherly knack for listening and dispensing advice in a forthright manner, daily doles out expert opinions on a host of crucial issues ranging from parenting, marital relations, divorce, human sexuality, education and death and dying to addictions, co-dependency, teen rebelliousness and violence both in and out of the home. A true media phenomenon, she receives an average of 8,000 telephone call attempts per day.
Event Details:
Date: Friday, January 29, 2010
Time: 5:00pm – 7:00pm
Location: Libreria Martinez Books & Art Gallery
Street: 1200 N. Main Street
City/Town: Santa Ana, CA