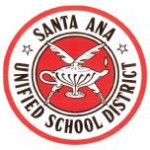 Do you live in Santa Ana? If you have kids then you need to know that you don't have to put them in our local schools. That said there are some fine schools in Santa Ana. But are they the best ones for your kids?
Parents are allowed to indicate a preference for the school which their child will attend, irrespective of the child's place of residence within the district. And surrounding school districts have to honor this parental preference if their schools have sufficient capacity without displacing other currently enrolled students, according to California Education Code Section 35160.5(b).
So what school districts are the best ones in our area?
NerdWallet conducted a study in 2015 of the public school districts in California. To find the best schools in Southern California, they weighed a district's affordability, standardized test scores, college readiness and student-to-teacher ratio. They also analyzed 153 unified and secondary school districts in Southern California. Here are how our local public school districts rated:
What about the Santa Ana Unified School District? Well it was rated the #119 school district in California with a student to teacher ratio of 23.40, a graduation rate of 85.90% and 66.07% of their students going on to Higher Education.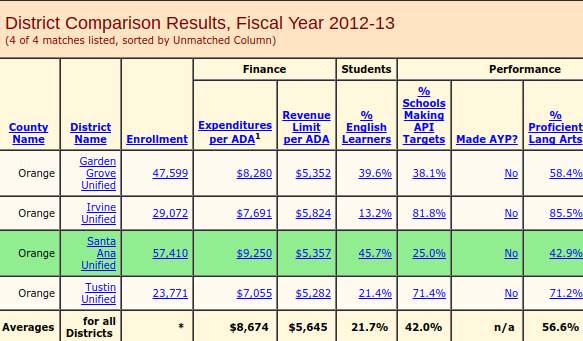 But let's dig a bit deeper. The State of California's Department of Education provides a website where you can compare school districts. I had to go back to the year 2012-2013, and here is what I found:
Math Proficiency – Only 53.2% of the students in Santa Ana are math proficient. In Tustin 73.5% of the students are math proficient. In Irvine 86.7% of the students are math proficient. Even Garden Grove has better results than Santa Ana with 69.4% of their students proficient in math.
Santa Ana also has the lowest results in proficiency in Language Arts with only 42.9% of their students labeled proficient. Irvine has the highest Language Arts proficiency rating with 85.5% and for comparison's sake Tustin has a 71.2% Language Arts proficiency rating.
The SAUSD is # 1 in one category. The Dropout rate. Overall 9.6% of Santa Ana students eventually drop out of school. Only 1.8% of the students in Tustin drop out.
Santa Ana also has the lowest graduation rate at 85.9% as compared to Tustin's 96.8% graduation rate.
Hang on – the SAUSD is also #1 in another category – English learners. 45.7% of Santa Ana's students are English Learners. Only 21.4% of the students in Tustin are English learners.
The SAUSD also has the lowest number of schools that are making their API targets at 25%. Irvine has the best rating in that category with 81.8% of their schools making the state's API targets.
When you consider all the facts it is very clear that Santa Ana students can get a better education outcome in the surrounding school districts. That said Santa Ana does have a few good options such as the dwindling Fundamental schools and the charter schools.
My older sons both graduated from Godinez Fundamental High School. My oldsest son went on to graduate from UCLA with two degrees last year. My daughter graduated from Santa Ana High School then completed her education at FIDM, the Fashion Institute of Design and Merchandising. She now lives in New York and she is the top denim designer for the Gap. My youngest son started out in Santa Ana and is now enrolled at a STEM school in Tustin. He has applied for two high schools in Tustin but if he cannot get into one of those we have also applied for the lottery at Godinez High School. Because I work in Irvine I also have the option to put him at an Irvine High School.
Where you send your kids to school matters. Given the date we have available it is clear that our better option just might be to transfer our kids to the surrounding school districts, particularly Tustin and Irvine.
When you are making your decision don't forget to look at the school boards in the local school districts. You will find that the SAUSD has an extremely liberal school board – and the results speak for themselves. We now have a few new board members, that include a school counselor and a college professor. We can but hope that they will find a way to improve the SAUSD.
While the schools we place our kids in matter we also have to do our jobs as parents. My wife and I are fortunate to have good careers and college degrees. Santa Ana is the poorest city in Orange County. I recognize that many of our local families are struggling just to survive. I wish them the best. Getting our kids a good education is so important. It really is the only way we can move up the socio-economic ladder.