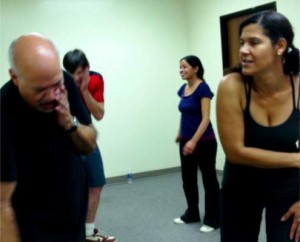 Dialogue Invites Santa Ana to a Free Theatre-Making Workshop! A free Illusion of Fighting Theater Workshop is set for Wed., Oct. 2, 2013 from 6:30 pm to 8:30 pm, at Kidworks, located at 1902 W. Chestnut, in Santa Ana.
Space is limited! Sign up today at http://www.surveymonkey.com/s/S92VQSJ.  No experience necessary.  Ages 18 and up.
Introduction to Illusion of Fighting on Stage will feature Instructor Richard Soto.
This workshop will introduce first-time actors to the basic skills, trust, and emotion needed to safely perform the illusion of fighting on the stage.
Questions: dialogos@scr.org / (714) 708-5843,