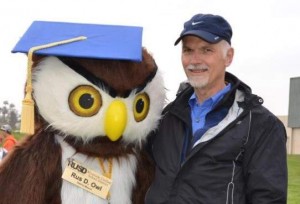 Santa Ana Unified School District officials were less than excited last week to share their new superintendent's salary contract – one that makes Rick Miller one of the highest-salaried school district superintendents in California, based on the latest figures from the state Department of Education, according to the Voice of OC.
The new Superintendent's "contract includes a $300,000 salary, a $7,200 annual car allowance and other benefits – is set to receive a $35,000 salary increase over the previous superintendent at a time of major financial challenges at the district." (That is crazy money but Miller is still making less than Randy Barth, the CEO of Think Together, who banks $330K a year!).

This is of course what we predicted would happen.  Miller is very old and does not figure to work in Santa Ana for very many years.  He is spiking his retirement pension with this huge salary – at our expense.
This is also exactly what happened when our City Council overpaid for a new City Manager, earlier this year.
The SAUSD School Board includes at least two government employees – Rob Richardson, who got busted for giving himself huge raises at the County of Orange; and Audrey Noji, who works for a Community College District.  I don't know what the heck John Palacio does for a living. He says he is a political consultant but I don't know that he has ever succeeded in getting anyone elected besides himself.
Kudos to SAUSD Trustee Cecilia Iglesias – the only Trustee who voted against the Miller hiring.  She opposed doing this without revealing the contract terms to the public.  She was right.  This sure looks like a blatant violation of the Brown Act:
"This response is a practice obviously intended to keep the public in the dark about what compensation terms the superintendent candidate is seeking, so citizens have no basis to question it prior to approval, which is their right," said Terry Francke, general counsel for CalAware and an open records consultant for Voice of OC. 
Earlier this year, Fitch Ratings downgraded the district's credit rating, citing "significant financial deterioration."  Miller's huge contract tells us the district is still making terrible financial decisions.