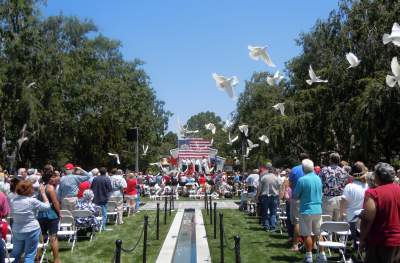 FAIRHAVEN MEMORIAL PARK TO CELEBRATE "THE SPIRIT OF FREEDOM" ON MEMORIAL DAY WITH ONE OF ORANGE COUNTY'S LARGEST GATHERINGS
Festivities include aerial flyover, live music, antique car display and more
SANTA ANA, Calif. – May 14, 2013 – Fairhaven Memorial Park will host one of Orange County's largest Memorial Day events on Monday, May 27 at 10:30 a.m. The event, entitled "The Spirit of Freedom," is expected to bring more than 3,500 people together to honor the brave men and women who valiantly served our nation. This year will mark Fairhaven's 21st Annual Memorial Day celebration and will include a star-spangled day of festivities featuring an aerial flyover, live music, inspiring military speakers, a visit from a real bald eagle and a host of other fun and patriotic activities.
"The sacrifices of America's service men and women have afforded us the liberties we hold so dear today," said Marla Noel, president of Fairhaven Memorial Park. "This annual event is an opportunity for us to gather together as proud Americans, celebrate our freedoms and pay respect to those who selflessly risked their lives to give us this opportunity."
The festivities will kick off with a special performance by Anaheim's Katie Dayton, winner of the "Star-Spangled Singer" contest, a competition hosted by Fairhaven via YouTube to seek out talented and patriotic vocalists. This will be followed by a wide ranging program of tributes, celebration and patriotism, including:
An aerial flyover of World War II war planes

The Orange County Concert Band, supported by the vocal stylings of the "Mellowaires" and a tap dancing routine from "The Dapper Tappers," comprised of local seniors

"America's Wars," a series of life-sized photo essays capturing the heroism and spirit of the American soldier

An antique cars display

A visit from a live bald eagle and other fascinating birds of prey

The Blue Eagles Honor Guard, 21 gun salute and the playing of TAPS

A White Dove Release
Patriotic speakers will include Colonel Peter Kim, U.S. Army, Lieutenant Colonel Donald P. Moriarty, U.S. Army Retired and Chaplain (Commander) George Fessler, U.S. Navy Chaplain Corps.
Guests can enjoy complimentary hot dogs and refreshments throughout the day, and festivities will conclude with the posting of colors.
About Fairhaven Memorial Park
Founded in 1911, Fairhaven Memorial Park is Orange County's most beautiful independently owned and operated full service mortuary, crematory and cemetery. Fairhaven offers a wide range of pre-need and at-need services provided with care and compassion. Fairhaven is dedicated to celebrating the individual, providing services that are as unique and wide-ranging as the people they celebrate. Additional information is available at www.fairhavenmemorial.com.