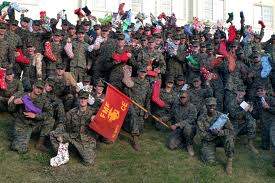 Operation Christmas Spirit
The Santa Ana Republican Women Federated are partnering with Operation Help A Hero to provide Christmas gift baskets for the U.S. Marines.
A great number of our Marines are coming home from overseas right now, many of them injured. Please help us show them our gratitude and support by donating items needed for Christmas baskets. These baskets will mostly be going to young, single men. The following are suggestions, but feel free to donate anything you feel they would like.
Gift Cards: gas cards, Itunes, restaurants, Target, etc.
Movie Tickets (discount packages available at Costco)
DVDs
Toiletries
Snack Foods
Bedding: sheet sets (white, twin size), blankets, pillows
Car Wash Supplies: car soap, polish, sponges, chamois, etc.
Board Games, Playing Cards
Video Games
Tools, Tool Bags, Tool Boxes
Monetary donations are welcome! Donations are needed by December 13, 2013.
Contact:
Carol Schneider – (714) 615-6649
Dawn Hammond – (714) 263-5122
or They may either drop them off at Robert Hammond's home at 2721 N. Larchmont Ave., Santa Ana 92705.