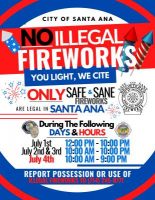 The SAPD has been warning us about use of illegal fireworks for a couple weeks but it seems that every night has been a mini 4th of July of late. No one appears to care about the SAPD's warning.
It turns out this is not a problem unique to Santa Ana.
llegal fireworks are a regular part of summer nights in most cities, but residents are complaining that this year, the fireworks appear to be louder, more frequent and going on longer than before, waking up neighbors into the early hours of the morning, according to NBC.
Boston police recorded 1,445 fireworks complaints in the first week of June, compared with just 22 in the same week last year. This seems to have started when the weather began warming up—complaints in May were also up by more than 2,300 percent compared with May 2019.  The mayor of Syracuse, New York, vowed action after a rash of 911 calls about fireworks last Tuesday night, and Syracuse police claim a 335 percent increase in fireworks complaints since the beginning of the year. Looking at New York City's 311 data, it appears there has been a 920 percent year-over-year increase in fireworks complaints for the month of May, according to Slate.
Why are people popping off so many illegal fireworks now?
Vox.com posted an article about this with these ideas about why fireworks have increased:
Robert Jones Jr., a writer whose debut novel The Prophets is scheduled for release in January, has offered what's probably the most detailed version of the conspiratorial account of the fireworks surge. In his view, the fireworks are part of a two-pronged effort to promote sleep deprivation and desensitization to explosive noises in urban minority neighborhoods.
The American Pyrotechnics Association reports that nearly 80 percent of display firework revenue is associated with July Fourth celebrations. This year, many of those celebrations have been canceled, and many other firework-intensive events like pro sports have also been impacted by the pandemic. This creates the potential for diversion of fireworks from the professional display market to the consumer market, complete with the possibility of bargain-basement prices.
"People are starved for entertainment. There's no concerts, no theme parks, no casinos," said Joe Van, managing partner of Florida-based Sky King Fireworks, which has locations in Florida, Indiana and Pennsylvania. "People are resorting to coming up with their own entertainment."
Many people are likely to be more hesitant to ask for police intervention when they see something illegal but not particularly harmful taking place. Studies also indicate that it's fairly common for police departments to reduce their effort level when they feel they are under political scrutiny. And in this case, less zealousness about policing nonviolent mischief is arguably part of what people are asking for.
So what can we do about the illegal fireworks? The SAPD is asking folks to call them if their neighbors are setting off illegal fireworks, at 714-245-8771.
New York City Mayor Bill de Blasio recently announced a multiagency task force to stem the flow of illegal fireworks into the streets of all five boroughs, after record numbers of complaints about the crackles and booms keeping residents up at all hours of the night, according to NBC.
Some people in town think that we could stop the illegal fireworks in Santa Ana by banning all fireworks. That is a silly idea. All that will do is deprive our local non-profits (which include many high school sports teams) from making money off the sale of legal, safe and sane, fireworks. Will such a ban stop people from setting off illegal fireworks? Of course not! They will double down on the use of illegal fireworks since banning the legal ones would deprive the market of a safer option.
Bottom line – we cannot hope to stop the tsunami of illegal fireworks. It just isn't in the cards, particularly this year. My plan is to set up some chairs in our driveway, grill some dinner and enjoy the free fireworks show on the 4th of July.
Now if you see folks doing really crazy things with the illegal fireworks then by all means call the police. My guess is they will have their hands full on the 4th of July.