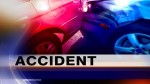 On Saturday, May 23rd, 2020 at 2:45 AM, our officers responded to McFadden Avenue and Ross Street regarding a single vehicle traffic collision. Orange County Fire Authority personnel responded and provided medical attention to the male driver before pronouncing him deceased at the scene.

The preliminary investigation has revealed the vehicle was traveling south on Ross Street approaching McFadden Avenue. The vehicle failed to stop at the intersection and collided into a wall on Ross Street, south of McFadden Avenue. The driver of the vehicle was the sole occupant. Alcohol is believed to be a factor in the collision.

The Santa Ana Police Department's Collision Investigations Unit (CIU) is handling the investigation. Anyone possibly having information about this collision is asked to contact Investigator N. Quinones at (714) 245-8284, or the Santa Ana Police Department's Traffic Division at (714) 245-8200.