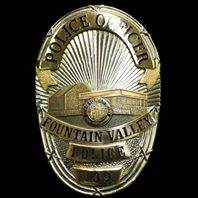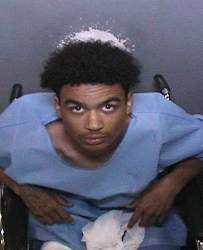 Fountain Valley Police Department
FOR IMMEDIATE RELEASE
On May 7, 2018, at approximately 2:29 p.m., Officers responded to a call of an interrupted residential burglary in the 16000 block of Caribou Street. As the first Officer arrived, the victim stated he saw suspect-1 run from his residence and jump over the adjoining wall into a neighbor's backyard. While speaking to the victim, the Officer saw a suspicious vehicle, a dark grey BMW, parked on Caribou Street just north of the victim's residence. As the Officer approached the BMW, suspect-2 jumped out and starting running northbound on Caribou Street until he ran into a side yard. Officers checked the residence and confirmed a burglary had occurred.
Additional Officers arrived and set up a perimeter in order to conduct a search of the area. As the perimeter was being set up, the victim confirmed his loaded handgun had been stolen from his residence. FVPD's K9 responded to assist with the search. Due to the suspects being possibly armed, FVPD requested assistance from allied agencies. Two K9 units and Deputies from the Orange County Sheriff's Department and Officers from the Huntington Beach Police Department responded to assist. Airships from the Orange County Sheriff's Department and the Anaheim Police Department also responded to assist.
Prior to the search, airship Duke saw a possible suspect in the rear yard of a residence on Cache Street. During a yard to yard search using the K9 Units, an OCSD K9 apprehended suspect-1, identified as 19-year old Leon Shillingford of Los Angeles. He was transported to an area hospital to be treated for a dog bite. Officers continued their search but were unable to locate suspect-2. He is believed to have fled the area. Suspect-2 was described as a male black wearing red pants.
The stolen handgun and additional property was recovered in the backyard of a nearby residence. The BMW was registered out of Los Angeles.
An investigation is still ongoing and FVPD encourages anyone with information reference this incident to call 714-593-4485.
Incident 18-15615