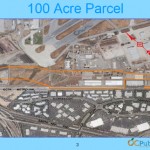 Orange County Supervisor John Moorlach has a plan to move the Orange County seat out of Santa Ana – to a 100 acre parcel the County owns next to the O.C. Great Park, on what used to be the El Toro Marine Corps Air Station, according to the Voice of OC blog.
The scary thing, for those of us who live in Santa Ana, is that Moorlach might be able to pull this off.  I would expect Supervisor Janet Nguyen to oppose the move, as her district includes Santa Ana.  But the rest of the Supervisors have no reason to oppose Moorlach's scheme, except maybe for Supervisor Shawn Nelson who does have a law office located in Santa Ana.
Moorlach could however team up with Supervisor Bill Campbell, who has nothing to lose as he will term out in two years, and Supervisor Pat Bates, who represents south Orange County, to make this happen.  If they believe the County will save money by doing this, they will act to dump Santa Ana.  As it currently stands, there are a number of big County leases coming up for renewal in Santa Ana.  Now might be an interesting time for them to try to get out from under those leases.
Moorlach ticked off the property's advantages: freeway and train accessibility and ability to feed off of the Great Park development. "If the Great Park is ever developed, it would be an incredible location," he said, in the Voice of OC article.
This would of course be a huge blow to the City of Santa Ana.  The County government provides a lot of good-paying jobs and leases a lot of space in our downtown.  The flip side is that, with the development of the One Broadway Tower and the proposed light rail system, the City of Santa Ana might find itself able to lease out all that space, but that is only assuming that our economy picks up.  It is hard to believe that will happen in the next two years.
Former State Senator Joe Dunn previously tried to move the Federal Court of Appeals to Irvine, but he was punked by Santa Ana Mayor Miguel Pulido, who succeeded in keeping the Court of Appeals in Santa Ana.  Dunn is now the Chairman of the Board at the Voice of OC blog.
Pulido will now have to roll up his sleeves and take on Moorlach, who remains a very popular Republican politician here in the O.C.  Pulido is an ally of Irvine Mayor Larry Agran, and Pulido serves on the O.C. Great Park's Board of Directors.  These connections should help him fend off Moorlach, but there is no assurance that Agran won't go all in with the plan to move the County Seat to Irvine.
I wonder if the folks in Irvine realize that taking our County seat will also mean accepting hundreds of homeless people?