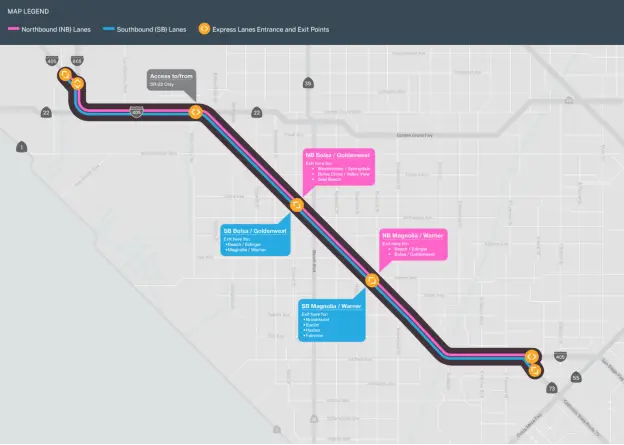 ORANGE – The Orange County Transportation Authority Board of Directors today approved the toll policy for the 405 Express Lanes, which is being built as part of the I-405 Improvement Project.
OCTA broke ground on the I-405 Improvement Project in 2018 to improve travel times along one of the busiest highways in the nation and accommodate an expected growth in employment, population and housing throughout the region. The 405 Express Lanes, and all other improvements being made as part of the project, are scheduled to open to traffic in late 2023.
The 405 Express Lanes – between SR-73 in Costa Mesa and I-605 at the Orange County Line – will give options to carpoolers to travel for free and solo drivers the choice to speed up their commute for a toll. Tolls and additional details can found at 405ExpressLanes.com.
The toll policy helps meet the OCTA Board's goals for the 405 Express Lanes, including providing drivers with a safe, reliable commute and maximizing the number of vehicles that travel at free-flow speeds.
Vehicles with three or more people, along with motorcycles and vehicles with designated veterans license plates or disabled person license plates, will always get to travel on the 405 Express Lanes for free.
Vehicles with two people will be able to travel on the lanes for free during non-peak hours when the 405 Express Lanes opens.
Solo drivers – and two-person carpools during peak hours – will have the option to pay a toll to use the lanes, helping them reach their destinations more quickly. Toll revenue collected beyond what it costs to repay the loan to build them will fund transportation improvements for everyone who travels through the 405 corridor – whether or not they choose to use the express lanes.
All vehicles will be required to have a FasTrak transponder, which can be used on any toll facility in California. To take advantage of the free or discounted tolls for carpoolers on the 405 Express Lanes, drivers must have a switchable FasTrak transponder. Switchable transponders can be purchased through California toll agencies for $15.
Tolls will vary by hour, day of the week, direction of travel and distance traveled, and will be adjusted regularly to ensure a free-flowing commute. Drivers can enter or exit the facility from I-405, SR-73, SR-22 and I-605, as well as at Magnolia Street / Warner Avenue and Bolsa Avenue / Goldenwest Street.
When the 405 Express Lanes opens, drivers on average will pay about $3 to travel the entire 14 miles. The maximum toll rate when the facility opens will be $9.95 from 3-5 p.m. on Fridays if traveling from SR-73 north to the county line.
I-405 Improvement Project
The $2.1 billion I-405 Improvement Project, now 95% complete, is a cornerstone of fulfilling the promises made to voters through Measure M – Orange County's half-cent sales tax for transportation improvements.
I-405 in northwest Orange County is one of the most heavily traveled highways in the nation, with more than 370,000 vehicles a day. Drivers routinely face severe congestion in both the regular lanes and the carpool lanes.
In addition to the 405 Express Lanes, the I-405 Improvement Project will help all drivers' commutes by adding one regular lane in each direction of I-405 between Euclid Street in Fountain Valley and I-605 in Seal Beach.
The project has also greatly benefitted the surrounding communities near I-405 through improvements to local streets and freeway on- and off-ramps, as well as new sidewalks and bike lanes throughout the nine cities adjacent to the project.
The I-405 Improvement Project is financed with a combination of local, state and federal funds, with the majority of funding from Measure M.
The express lanes portion of the project is being funded by a federal Transportation Infrastructure and Innovation Act (TIFIA) loan. The loan will be repaid solely by drivers who choose to pay a toll.
For more information about the 405 Express Lanes, visit 405ExpressLanes.com.
For more information about the I-405 Improvement Project, visit octa.net/405improvement.
About OCTA:
The Orange County Transportation Authority is the county transportation planning commission, responsible for funding and implementing transit and capital projects for a balanced and sustainable transportation system that reflects the diverse travel needs of the county's 34 cities and 3.2 million residents. With the mission of keeping Orange County moving, this includes freeways and express lanes, bus and rail transit, rideshare, commuter rail and active transportation. To sign up for more OCTA news, visit octa.net/GetConnected.