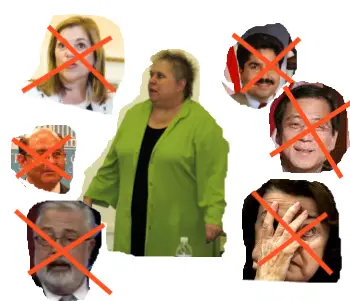 UPDATE: Democratic Party Chair Frank Barbero says the FBI has frozen bank accounts connected to Orange County's Democratic Party, according to NBC News.
UPDATE: Kang is done: Irvine mayor Sukhee Kang says his bank account shrunk from $20,000 to $700. Kang opened a second account in July to fund his run for congress, but it is missing about $25,000, too, according to NBC News.
UPDATE: O.C. Register reports that Democratic candidates may not be able to replace their stolen campaign funds.
Things are suddenly looking very bad for the Democratic Party of Orange County (DPOC) in next year's elections.  President Barack Obama is a train wreck.  Redistricting didn't go well for the Democrats either – and now longtime campaign treasurer Kinde Durkee has apparently made off with all their money!
Congresswoman Loretta Sanchez says her campaign account was just about wiped out.  Sanchez won't have any money to defend her seat next year.  Assemblyman Jose Solorio terms out next year – and his money is gone too.  He was going to wait until 2014, to run for State Senator Lou Correa's seat.  Well now Solorio is going to have to work his butt off to replenish his drained account.  Oh by the way, Correa's money got stolen too.  He was going to run for State Attorney General, if Senator Dianne Feinstein retired and the current State AG ran for her seat.  Maybe not now.  And Feinstein's money is gone too!
Solorio opened a campaign office in 2008, that he shared with Republicans Carlos Bustamante and Rob Richardson.  Both Bustamante and Richardson got busted for accepting illegal pay raises this year.  I am guessing that they will have a hard time finding any Democrats who will go near them now.  And Solorio?  He won't be running any campaign offices at all next year.
And Solorio is giving Republican Supervisor Janet Nguyen a free pass.  Redistricting added thousands of new Vietnamese voters to her district, making it unlikely that any Democrats will have the huevos to take her on.
What about DPOC Chairman Frank Barbaro?  Well, Durkee managed his Victory Fund PAC's bank account too.  We'll see if she pilfered that account as well.  If she did, Barbaro will be up the river too.
What about OC Labor?  Well they are running their political director against a progressive Democrat, Santa Ana Council Woman Michele Martinez, for Solorio's seat.  This is on the heels of backing a Republican, John Leos, against two Democrats for the Anaheim City Council last year.  They all lost.  That Council is now firmly controlled by Pringle Republicans.
If the OC GOP can recruit some halfway decent candidates they might be able to take the Sanchez and Solorio seats.  Don't scoff.  There are three Democrats vying for the Solorio seat, in what is now an open primary.  Can you say "vote split? "
At this rate I am not sure the Democrats will be able to even hang onto their local seats.  In fact the big news in Irvine this week was that Larry Agran's coalition is falling apart, as Sukhee Kang is now voting with the Republicans.  It is looking like a blue bloodbath…